Hedge Fund Managers Ditch Decorum in Shouting Match Over China
by and
EJF Capital's Friedman says the bearishness has gone overboard

MB Advisors's Berg joins with the naysayers at SALT conference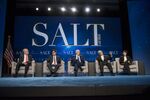 A fiery exchange between money managers Emanuel Friedman, Milton Berg and Don Brownstein broke with the polite decorum of the SkyBridge Alternatives Conference, one of the biggest annual events for the hedge fund world. That's because the topic was China.
Friedman, co-founder of hedge fund EJF Capital, said he was reminded of overblown reactions to the late 1990s Asian financial crisis: "People said, 'Well Korea, it's finished, it's collapsed. People are in the streets."'
"The issue is not that," shot back fellow panelist Berg of MB Advisors. "The issue is not that!" Friedman then shouted, "People are in the streets!" his volume rising as he repeated it five more times.
China, where a currency devaluation sent shock waves worldwide last year, is dividing the biggest names in finance more than any other market. Larry Fink of BlackRock Inc. said in April that China's aggressive policy to stimulate the economy is working and the risk of a bubble bursting is only about 20 percent. Billionaire investor George Soros said last month that the nation's debt-fueled economy resembles the U.S. in 2007-08, at the onset of the global financial crisis.
The clash Wednesday at the Bellagio hotel in Las Vegas, where 1,800 hedge fund industry executives are gathering, contrasts with last year's meeting, where many money managers expressed confidence in China. Last May, Passport Capital's John Burbank -- now a China bear -- predicted that China would come through its economic slowdown "strong and positive." Michael Novogratz, who at the time ran Fortress Investment Group LLC's macro fund business, predicted that the country was on the brink of "one of the greatest bull markets we've seen."
'Herd Mentality'
China Investment Corp.'s Roslyn Zhang and others found themselves on the defensive on Wednesday's panel. The CIC executive said hedge fund managers, many of whom have never been to China, were succumbing to a "herd mentality" in betting against the yuan.
"They really don't know much about China but they just spend two seconds and put on the trade," she said. "Should we pay 2 and 20 for treatment like this?" she said, referring to industry fees, traditionally 2 percent of assets and 20 percent of profits.
Zhang, a managing director at the nation's largest sovereign wealth fund, said investors fail to grasp that China's massive size requires large-scale construction, pushing back at concerns that the country is building "bridges to nowhere." She said the country's leverage and militarization compare favorably with the same metrics in the U.S.
"When you put that all together, China is actually not that scary," she said. "If you're worried about China, you should be twice as worried about here."
Bearish Bass
If Zhang was spearheading the bulls, then Kyle Bass was leading the bears. Bass, of Hayman Capital Management, said at a later discussion that China's economy was already experiencing a hard landing, creating "one of the biggest macro imbalances the world has ever seen." Bass, who's highlighted woes in the nation's banking sector, said economies closely tied to China, such as Hong Kong and Malaysia, are beginning to stumble.
Credit in Southeast Asian emerging markets including Malaysia and Thailand has grown "recklessly" and Hong Kong's property market is in "free fall," he said.
Money managers on stage with him mostly agreed. "It may be a little slower than Kyle thinks," said Kenneth Tropin, founder of the $12 billion macro hedge fund Graham Capital Management. But a spike in commodity prices, driven by Chinese retail investors, is a sign that "things may become unglued," he said, adding, "it's a question of timing."
At least five commodities in China gained more than 50 percent from their recent lows in just over two months as daily turnover on the nation's futures markets jumped by the equivalent of $183 billion.
Vote Sanders
Paul Brewer, chief investment officer of Rubicon Fund Management, said China's woes are worse than the U.S. subprime housing crisis.
Leon Cooperman, who runs equity hedge fund Omega Advisors, was more sanguine about prospects for the world's second-biggest economy. China has been slowing for years without thwarting a three-year rally in U.S. stocks. "It's overemphasized as an issue," he said.
"We are going to have ripples in China," said EJF's Friedman. "But this is a very powerful country. And the people who use it as some kind of bogey man -- it's make believe."
Structured Portfolio Management's Brownstein concurred. "China came out of a huge, huge mess and it is a huge country with a very, very diverse population," he said. "I would rather put my money with a communist government than a capitalist government."
Berg suggested: "Vote for Bernie Sanders."
Before it's here, it's on the Bloomberg Terminal.
LEARN MORE