Greeks Leery of Debt-Relief Talks as They Brace for New Tax Wave
by
Debt relief key to bringing down 3.5% primary surplus target

Data show almost quarter of Greeks jobless in February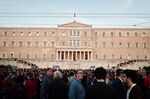 Ioannis Plotas doesn't share his prime minister's belief that the start of debt-relief discussions on Monday is a step forward for Greece.
Rather, the 52-year-old is worried that the latest hikes in income tax and social security contributions passed by Greek lawmakers on Sunday to appease creditors will drive the dry cleaning shop he runs with his sister in central Athens out of business. 
"They're taking money out of our pockets and driving our customers further away," he said. Will debt-relief talks make a difference? "No way," he said. "The only thing we know for sure is that things won't get better."
Demands made by Greece's European creditors suggest he may be right to be wary. Prime Minister Alexis Tsipras, addressing his cabinet colleagues on Tuesday, said debt relief will give the country much-needed fiscal breathing space. Still, the timid steps discussed on Monday by finance ministers to ease the burden of Europe's most indebted nation came with proposals based on Greece running a budget surplus before interest payments of 3.5 percent of gross domestic product for a decade, a criterion many economists say is unreasonable.
"After years of recession, these measures are hurting everyone," said Ilias Lekkos, chief economist of Piraeus Bank SA in Athens. "However much you raise taxes, however much you make cuts, a 3.5 percent primary surplus is not achievable. Or if we do achieve it, it will be at the cost of a huge recession."
Hollowing Economy
Economic data this week will highlight how much the Greek economy has hollowed out. The Hellenic Statistical Authority released February unemployment data Thursday showing that 24.2 percent of the workforce remains without a job, while on Friday it will probably say that GDP contracted in the first quarter, after shrinking for a seventh year in eight in 2015.
The pain of the economic collapse was palpable during the protests and rioting ahead of Sunday's parliamentary vote, with demonstrators demanding that the government withdraw the income tax and pension reform plan. The legislation passed without defections from the 153 of Tsipras's coalition.
More austerity is in the cards as the government drafts legislation on final actions needed to be passed before the next euro-area finance ministers' meeting on May 24 to seal the country's bailout review. This will include an increase in indirect taxes, with the top rate of sales tax rising a percentage point to 24 percent. It will also involve the introduction of taxes on coffee, Internet use and cable television.
Tsipras's About-face
For Greeks, the actions pushed through by Tsipras show a remarkable about-face by a prime minister catapulted to power in January 2015 pledging to put an end to austerity. The budget cuts have eaten into support for both Tsipras, whose Syriza party now trails the opposition New Democracy party in polls, and for the euro.
 
Support for continuing Greece's euro membership slid to 60 percent in an April poll by Kapa Research, down from 73 percent in a survey by the same pollster in 2015. A recent poll by the University of Macedonia shows that 71 percent of Greeks believe the country's economic situation will worsen over the next year.
One small victory Tsipras was able to claim on Monday was the backing he got for Greece's stance that it wasn't politically feasible to legislate specific contingency measures that would kick in if his government fell short of its fiscal targets, as demanded by the International Monetary Fund. Instead, the finance ministers endorsed the Greek proposal for a looser mechanism to pare back spending, without specifying the cuts.
Pyrrhic Victory
Still, the victory will be a Pyrrhic one for Greece if European creditors don't lower the primary surplus target, a key IMF demand for its participation in the bailout.
In a letter to euro-area finance ministers this month, the fund's managing director, Christine Lagarde, called the current target, which steps up to 3.5 percent of GDP by 2018, "higher than what we consider economically and socially sustainable in the long run."
"If the existing measures are not politically sustainable, how possibly could the contingency measures be?" said Gabriel Sterne, head of macro research at Oxford Economics Ltd. in London. "The main benefit of the IMF's contingency measures is to point out the flaws in the program. I doubt even the IMF would be pleased if they were adopted."
Long-Term Problem
While the IMF sees debt relief as key to bringing down the primary surplus targets, proposals circulated by the country's European creditor institutions to the euro-area finance ministers' meeting Monday were based on projections that Greece would maintain primary surpluses greater than 1.5 percent of GDP until 2040.
Those proposals, which include extending the maturities of some European bailout loans to Greece by a weighted average of five years and capping their interest rates at 2 percent until 2050, fall well short of what was informally discussed in previous years, according to Panos Tsakloglou, a professor at the Athens University of Economics and Business, who was a Greek bailout negotiator between 2012 and 2014.
"Of course, all this may just be the opening gambit in the negotiation and hopefully our side will have detailed counter-proposals," Tsakloglou said. "But if the final outcome of the negotiation is what's referred to in this proposal, then Greece will remain a European problem for many years to come."
Before it's here, it's on the Bloomberg Terminal.
LEARN MORE