Gold Fund Buying Frenzy Spurs Demand to Second-Highest Ever
by and
Demand jumps 21% in first quarter as investment doubles: WGC

Indian, Chinese consumer buying hurt by strike, price surge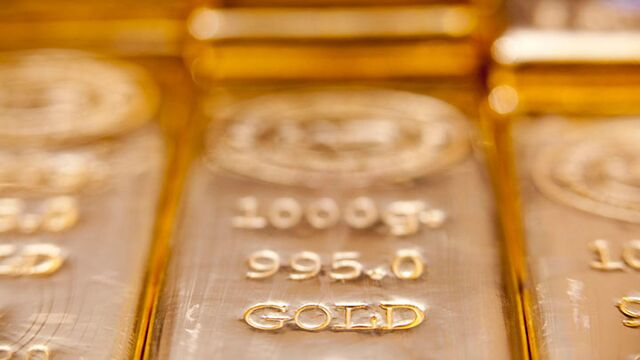 Gold demand surged to the second-highest level ever as investors piled into funds, doubling investment in the metal.
Global demand in the first quarter climbed 21 percent from a year earlier to 1,289.8 metric tons, the World Gold Council said in a report Thursday. That's second only to the final quarter of 2012 in data going back to 2000. Still, jewelry buying slid 19 percent amid a strike by jewelers in India and as higher prices deterred buying.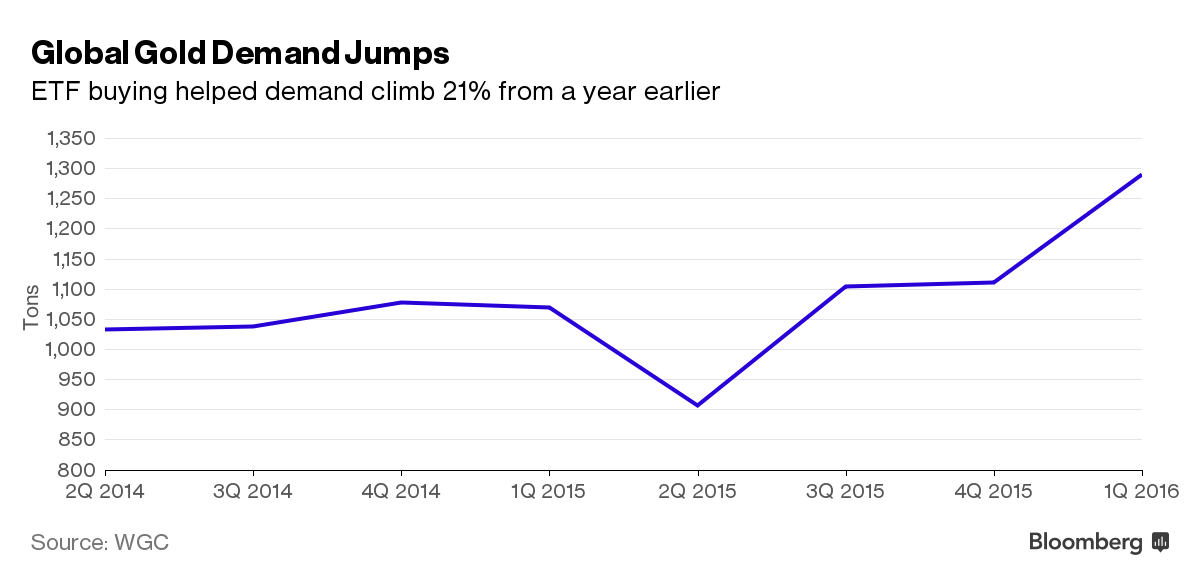 Gold prices jumped 16 percent in the quarter, the most in three decades, even as demand slowed in India and China, the biggest consumers. Investors piled into bullion-backed exchange-traded products amid volatile equity markets, while the outlook for low U.S. borrowing costs and negative rates in some other countries also boosted demand for a store of wealth.
"It's been a pretty good start to the year," Alistair Hewitt, the head of market intelligence at the London-based council, said by phone. "You have very clear and visible strength in institutional demand, but at the same time, you have core markets facing significant headwinds."
ETP holdings rose by 300.7 tons in the three months through March 31, compared with 22.8 tons a year earlier, data compiled by Bloomberg show. Total bar and coin demand was little changed in the period, the council said.
Asian Buying
Total Indian purchases plunged 39 percent to 116.5 tons as jewelers protested against an excise tax, while Chinese demand dropped 12 percent to 241.3 tons. Higher prices, as well as economic uncertainty in China, prompted consumers to delay buying, the council said.
Purchases should accelerate later this year, probably pushing annual demand to 850 to 950 tons in India and 900 to 1,000 tons in China, Hewitt said.
"There will certainly be some rebound in demand but it will be in the second half, primarily in the fourth quarter" for the Diwali festival, P.R. Somasundaram, the council's managing director for India, said by phone.
In China, investment demand will continue to grow strongly as investors seek a haven from volatility in stocks and bonds, according to Roland Wang, China director at the council. Jewelry consumption will come under some pressure because the economy continues to expand slowly, curbing demand for discretionary items, he said by phone from Beijing.
Goldman Sachs Group Inc. and Singapore-based Oversea-Chinese Banking Corp. beefed up their price forecasts this week, though both said there were still bearish. Goldman predicts $1,150 an ounce in 12 months, while OCBC sees $1,200 by the end of the year. Bullion traded at about $1,272 on Thursday.
Official Purchases
While central banks were net buyers of the metal for a 21st straight quarter, the 109.4 tons added to reserves was 3 percent less than a year earlier. Nations are expected to buy 400 to 600 tons this year, compared with 566.3 tons in 2015, Hewitt said.
More quarterly demand and supply figures:
Combined bar and coin demand totaled 253.9 tons. Jewelry purchases fell to 481.9 tons, with Indian demand at a seven-year low.
Net bullion imports by India slumped 39 percent from a year earlier to 134.4 tons, the lowest in two years
Mine production rose 1 percent to 734 tons.
Producers hedged 40 tons, compared with de-hedging of 11.6 tons a year earlier.
Recycling fell 1 percent to 360.9 tons.
Before it's here, it's on the Bloomberg Terminal.
LEARN MORE