Ex-Deutsche Bank Broker Gets Record Sentence for Insider Trading
by
Sentence is the longest for insider trading in the U.K.

Judge says Dodgson showed 'deliberately dishonest behavior'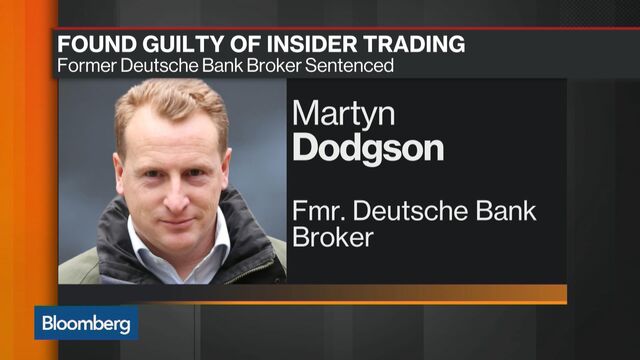 A British judge handed a record prison term to a former Deutsche Bank AG corporate broker, ending his once-promising banking career with a rebuke about his prolonged criminal behavior.
Martyn Dodgson, 44, was sentenced to 4 1/2 years in prison Thursday, alongside his friend Andrew Hind, an accountant who was given a 3-1/2 year term for the same offense. The men were found guilty of insider dealing Monday after a four-month trial.
"This was persistent, prolonged and deliberately dishonest behavior," Judge Jeffrey Pegden said when handing down the sentence. "The preservation of market confidence is at the heart" of why this is a crime.
The sentences were another victory for the Financial Conduct Authority, which has won 30 convictions for insider trading since it started prosecuting the crime less than a decade ago. The success comes as U.S. prosecutors are struggling with a court ruling that limits their ability to tackle the offense.
Dodgson showed a "gross breach of trust," Pegden said while highlighting that the crimes were committed during a period when the banker was well compensated by his job, which paid him more than 600,000 pounds ($868,000) in 2009. He gained 469,720 pounds from the insider trading, and Hind took profits of 238,460 pounds.
Confiscation
The FCA said it would move to confiscate any proceeds from the pair's illegal actions.
"This case involved serious offending over a number of years, conducted in a sophisticated way using deliberate techniques to avoid detection," Mark Steward, the agency's director of enforcement and market oversight, said in an e-mail. Dodgson "was entrusted by his employer with sensitive and valuable information. He betrayed that trust by exploiting the information for his own benefit, conspiring with Hind to deceive the market."
Tabernula
Three other defendants in the case, former Panmure Gordon & Co. corporate broker Andrew "Grant" Harrison and day traders Benjamin Anderson and Iraj Parvizi, were acquitted.
The group formed part of the FCA's biggest insider-trading investigation, dubbed Operation Tabernula. The FCA already secured three other convictions in relation to the probe.
Thursday's sentences are among the longest handed down in an FCA insider-dealing case. Former Moore Capital Management LLC trader Julian Rifat, another target in Tabernula, received a 19-month prison sentence last year after pleading guilty. Richard Joseph, a self-employed London trader, was given a four-year sentence in 2013 -- the longest prior to Dodgson. The maximum term for insider dealing in the U.K. is seven years.
Lawyers for the two men asked for lighter sentences in court Thursday, citing family issues. The 56-year-old Hind has a young son with disabilities, while Dodgson has two children who live outside the country.
Hind's Suitcase
Dodgson, wearing a white and blue checked shirt, stared straight ahead as the sentence was read out. The two men were led out of the court by a security guard, with Hind wheeling a suitcase behind him.
The FCA accused Dodgson and Harrison of passing inside information on possible deals from their jobs between 2006 and 2010 to Hind who the agency claimed gave them to Parvizi and Anderson to trade on. All of the men denied the charge. Harrison said he had a trading investment with Hind but never shared non-public information. Parvizi and Anderson said they placed the bets but never knew they were being given inside knowledge.
The FCA's growing scorecard for insider dealing is in contrast to its U.S. peers, who have stumbled over the crime in recent years after a New York federal appeals court ruling narrowed the definition of the offense. The decision has upended 14 convictions in the last 18 months.
Dodgson and Hind will probably start their sentences in HM Prison Wandsworth, a Victorian jail south of the Thames known for its poor conditions and violent residents. Due to the length of their sentences and the non-violent nature of their crime, the pair should be transferred to a prison for less-serious offenders in the coming months.
Before it's here, it's on the Bloomberg Terminal.
LEARN MORE