EU Naval Effort Fails to Deter People-Smugglers, U.K. Lords Say
By
Libya's lack of stable government is main factor in failure

EU's Operation Sophia saves 9,000 migrants since last year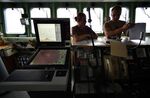 The European Union's naval mission in the central Mediterranean is failing to deter people-smugglers, according to a panel of lawmakers in the House of Lords, the U.K. Parliament's upper chamber.
While efforts to disrupt the "multi-billion pound" migrant-smuggling business are falling short, Operation Sophia is succeeding in its search-and-rescue mission, saving about 9,000 immigrants at sea since it began last year, the Lords European Union Committee said Friday in a report.
The panel highlighted the lack of a stable government in Libya as a crucial factor hampering efforts to stem the flow of migrants being smuggled to Italy from North Africa. The EU needs to devise a strategy to tackle the root causes of irregular migration, including helping to develop countries from which the migrants are leaving, it said.
"A naval mission cannot disrupt the business model of people-smuggling, and in this sense it is failing," Committee Chairman Christopher Tugendhat said in an e-mailed statement. "The smuggling networks operate from Libya, and they extend through Africa. Without support from a stable Libyan government, the operation is unable to gather the intelligence it needs or tackle the smugglers onshore."
The committee found that while the operation to date has arrested over 50 people smugglers, they are all "low-level targets" and not key figures within smuggling networks. The operation has also destroyed 80 vessels, but that has resulted in smugglers switching to more dangerous dinghies from wooden boats.