Can Graduate Students Unionize? The Government Can't Decide
Grad students who teach and do research want higher pay.
By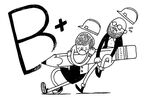 Last semester, Paul Katz, a third-year Columbia doctoral student who's working toward a Ph.D. in 20th century Latin American history, was assigned to help teach and grade an undergraduate course on ancient Greece. He hadn't studied Greek history since high school, and he took time away from his own dissertation work to prepare for the class. "It's reasonable to view that as a work assignment that I'd been given, not to pretend that this is about my development as a scholar and teacher," Katz says. He's joined other Columbia graduate students in petitioning the federal government for the right to unionize as they seek higher pay and other concessions, including better health benefits, for the teaching and research they do while pursuing their degrees.
The National Labor Relations Board is expected to rule sometime this summer. Katz and his co-workers have petitioned to join the United Auto Workers. The AFL-CIO has also weighed in on their behalf. "They're providing a service and receiving compensation," says AFL-CIO general counsel Craig Becker, who served on the NLRB during President Obama's first term. "It's up to them to decide whether, even though they're also students, they think they would benefit from collective bargaining."
Columbia, which opposes grad student unionization, has won support from all seven of its fellow Ivy League schools, along with Stanford and MIT. The schools joined together in February to file an amicus brief warning that collective bargaining would threaten faculty authority over educational decisions involving undergraduates as well as teaching assistants. "This is viewed as a fundamental issue of academic freedom," says attorney Joseph Ambash, who wrote the Ivies' brief.
In its own filing, Columbia compared its graduate assistants to student interns at Fox Searchlight Pictures: A federal court last year ruled the interns don't have to be paid minimum wage if it can be determined that they benefit more than the company does from their time on the job. "The benefits they receive far outweigh any advantage the University receives from student-performed teaching or research," Columbia's attorneys wrote. "[T]he university exercises control for entirely pedagogical purposes." Columbia declined to comment further.
Unionization among graduate students at public universities has been widespread for decades because those student workers are treated as government employees. In 2000 the NLRB, then dominated by President Clinton's appointees, ruled in favor of letting graduate students unionize at New York University, the first such victory at a private institution. That precedent was overturned in 2004, under President George W. Bush, when the NLRB rejected a unionization push at Brown. "Being a graduate assistant working toward a degree is not a relationship that's primarily economic. It's primarily academic," says former NLRB member Ronald Meisburg, who was part of the majority that voted in favor of blocking unionization at Brown.
After that decision, NYU ceased to recognize its graduate students' union. Students filed a fresh unionization petition in 2010 to the NLRB, which signaled it might be open to undoing the Bush-era ruling and returning to the precedent set under Clinton. In 2013, NYU allowed the UAW to establish a union that covered most of the students the UAW had asked to represent. "We felt there was a middle ground," NYU Executive Vice President Bob Berne said at the time. "We felt that both the union and the university learned from the first experience."
That helped fuel student unionization efforts at other prominent universities. The American Federation of Teachers is organizing at Cornell. The university announced on April 13 that it's opened talks with student representatives about recognizing a union. "The university would completely fall apart without that labor force," says Kate Bronfenbrenner, director of labor education research at Cornell's School of Industrial and Labor Relations. Graduate assistants at Yale have announced their support for the hospitality union Unite Here, which represents the school's clerical and service staff.
In addition to Columbia, the UAW is organizing at Manhattan's New School and at Harvard, where it announced on April 28 that it's won majority support from teaching and research assistants. "I don't think any powerful institution wants to concede power or voice to anybody," says Felix Owusu, a first-year Harvard doctoral student in public policy. "The administration at Harvard, I guess it's not surprising that they're not an exception."
The bottom line: Unions are targeting the wealthiest universities in the U.S. to win higher pay and benefits for graduate students who teach.
Before it's here, it's on the Bloomberg Terminal.
LEARN MORE