Brexit May Keep the BOE United As Risk of Split Grows
Referendum uncertainty trumps growth risks, for now.
by and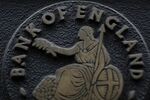 Most analysts say the Bank of England's Monetary Policy Committee will vote unanimously to hold policy as the referendum on EU membership looms, though weakening growth could spur one member to vote for a rate cut as soon as this month, according to Bank of America Merrill Lynch analysts.
The MPC may prefer to stay as neutral as possible even as it continues to forecast an inflation overshoot, amid a reluctance to be seen as political and uncertainty over the impact of the June 23 vote. Hence today's decision may have only a muted market reaction.

Analysts at a number of banks say growth in the second quarter could be as low as zero, compared with the BOE's 0.5 percent estimate, so the central bank may trim its forecasts. The rate decision, minutes and Inflation Report are due at 12 p.m. U.K. time and Governor Mark Carney will hold a press conference 30 minutes later.
Bank of America Merrill Lynch
The BOE will probably vote 8-1 to hold policy, with Gertjan Vlieghe preferring a rate cut, although it's a close call, according to analysts including Robert Wood and Kamal Sharma.
BofAML now expects a rate increase in May 2017 versus its previous forecast for November 2016. Risks to the pound from this week's decision may be asymmetric, as a constructive tone is unlikely to boost the currency or rate expectations given the EU referendum is approaching.
The bank expects BOE to marginally lower its inflation forecast at the two-year horizon to 2.0 percent from 2.1 per cent. While the BOE will probably indicate the Brexit referendum could materially change policy outlook, it's unlikely to provide fully worked-out alternative scenarios for both a "Remain" and "Leave" vote, make today's forecasts trickier to interpret.
Goldman Sachs
Goldman Sachs expects a 9-0 vote and say the BOE's near-term inflation forecast may be nudged higher, while the 2-year ahead forecast will probably remain similar to February's levels, according to economist Andrew Benito.
Goldman expects the 2016 growth estimate to be trimmed, with the MPC set to largely discount recent weakness. The bank expects little in the way of forward guidance, given the exceptionally flat forward curve and the increased divergence among committee members.
Barclays
The BOE's policy stance is likely to be unchanged, as is the split of the vote, Andrzej Szczepaniak and Francois Cabau say. Vlieghe is unlikely to vote for a cut before the EU referendum, although that can't be ruled out.
The MPC will probably continue to look through EU referendum uncertainties but may cut domestic growth forecasts. Inflation forecasts will probably still predict CPI to overshoot the central bank's 2.0 percent target by the end of the forecast horizon, anchoring expectations of a rate rise within that period.
Scotiabank
BOE monetary policy is seen taking a backseat as the final phase of EU referendum campaign gets underway, according to economist Alan Clarke.
Scotiabank expects a consensus committee vote to keep the bank rate unchanged at the meeting, though at least one vote of dissent is possible.
The Inflation projection will be crucial, Clarke says. The BOE's medium-term inflation view should remain unchanged given a weaker sterling, higher oil prices and delayed expectations for a rate increase compared to the last Inflation report in February. Its medium-term inflation projection will most likely be in the 2.1 percent to 2.15 percent range, and is unlikely to support the case for voting for a rate cut at this stage.
JPMorgan
JPMorgan expects a mixed tone, with the MPC expressing increased uncertainty and caution over the near-term outlook, according to economists Malcolm Barr and Allan Monks.
The committee's baseline forecast will be conditioned on a vote to remain in the U.K. in June, in line with the government's official position. The BOE will therefore assume some growth rebound in the second half of 2016 and make a modest downgrade to 2016 growth forecasts to 2.0 percent from 2.2 percent.
The MPC won't want to overreact to the soft patch in data, which could well prove transitory, according to Barr and Monks. Instead, the committee will probably say the "underlying" health of the economy is hard to read at present. Its two-year and three-year ahead inflation profile is likely to be above 2 percent, conditioned on market expectations for a policy rate increase not happening until 2019.
Royal Bank of Scotland
The EU referendum reduces the likelihood of a market-driving update from the Bank and the MPC is likely to be highly non-committal, according to analysts Ross Walker and Simon Peck.
Markets will probably be cautious in their interpretation of today's decision, the analysts add. RBS expects an unanimous vote and a reiteration of the MPC's February view that a rate increase is more likely to be the next move rather than a cut.
The bank sees the BOE's three-year ahead CPI projection being lifted to 2.35 percent from 2.25 percent, signaling the market is too dovish. Its 2016 GDP may be trimmed by as much as 0.2 percentage points. Any commentary on the MPC's assessment of economic implications of any vote to leave the EU and its policy reaction function will be eyed, although policy makers will be cautious of wading too far into politics.
HSBC
HSBC expects dull forecasts, which won't rattle markets ahead of the EU referendum, with inflation slightly higher in the near term and slightly lower growth projected for 2016 and 2017, according to economists Simon Wells and Liz Martins.
Monetary policy and the committee's voting pattern won't change this month. The bank expects the BOE's two-year ahead inflation forecast to rise to 1.94 percent and three-year ahead projection to 2.29 percent.
The BOE can't avoid discussing Brexit risks, though HSBC expects a central forecast that assumes the U.K. votes to stay in the union. It may give indicative forecasts under an alternative, post-referendum scenario but it's unlikely the central bank will issue two sets of forecasts.
Credit Suisse
The BOE is out of play until the EU referendum is over and is likely to be in policy hibernation, according to analysts including Peter Foley.
Credit Suisse expects a unanimous vote to keep rates unchanged at 0.5 percent, and inflation forecasts to exceed the 2 percent target by the end of the forecast horizon under current interest-rate expectations. With the market now pricing no rate rise until 2019, the BOE is likely to note that the market has pushed out expectations for an increase too far.
Higher oil prices, a weaker currency and lower front-end rates may mean inflation at the end of the forecast horizon may be slightly higher compared with February. Meanwhile, expect the near-term growth profile to be revised down.
Nomura
Nomura expects the MPC to forecast inflation at only slightly above 2 percent in 2 years' time, consistent with past behavior, even though the market rate pricing reflects Brexit risk, according to economist Philip Rush.
Investors may heavily discount the MPC's guidance, Rush adds. Nomura is biased to see dovish risks to market reaction today, which would anyway be normal. The BOE must assume the U.K. votes to stay in the EU, in line with government policy, in its forecasts.
UBS
The MPC probably won't retain its slightly hawkish message, given rates markets are already pricing a delay in rate increases, analysts John Wraith and David Tinsley say.
A few weeks before the referendum isn't the best time to be outspoken, but some are likely to show concern about slowdown in the data, the analysts add.
MPC members will keep themselves as invisible as possible in the campaign process as they don't want to become a bargaining tool. Questions could become louder around possible monetary policy easing if growth slows more markedly going forward.
Rabobank
Uncertainty over the referendum outcome creates difficulties for BOE staff on economic projections for the next year or so, strategist Jane Foley says.
Political uncertainty is likely to have already had some impact on business confidence, though it's difficult to isolate the impact from the effects of sluggish global growth.
The pace of expansion is likely to be slower than estimated in February report. Slower growth adds to the risk the BOE will delay its first rate increase of the cycle.
The central bank is likely to maintain a cautious position on policy even if the June referendum returns a "Remain" result.
Investec
The MPC is in wait-and-see mode as it rides out the communications challenges of the EU referendum, economist Chris Hare says.
The committee will continue to signal markets are too dovish, possibly through an inflation forecast that is a touch stronger than in February.
Conditional on a "Remain" vote in the referendum, Hare expects growth to recover and for inflationary pressures to start building notably over the second half of 2016. Hare will be digging beneath the Brexit-related headlines to confirm his view that the BOE will lift rates in November.
Before it's here, it's on the Bloomberg Terminal.
LEARN MORE