Majority in Brazil Senate Debate Backs Rousseff Impeachment
Arnaldo Galvao, Mario Sergio Lima and Raymond Colitt
Forty-two legislators say they will vote against president

Floor debate continues and vote is expected in coming hours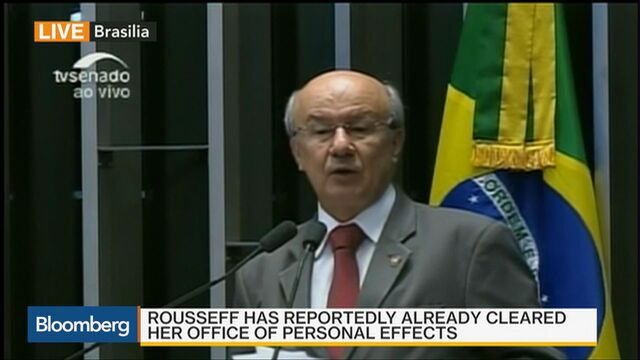 The majority of Brazilian senators have declared their intention to vote in favor of the impeachment of President Dilma Rousseff, paving the way for her deputy to take the reins of Latin America's largest economy.
Forty-two senators indicated in floor speeches during a marathon session that they will vote against the president, giving the opposition the simple majority of the 81 seats it needs to put her on an impeachment trial. The discussions, which started Wednesday morning, are expected to continue for several hours before the official voting.
While Rousseff's supporters camped outside the Senate in Brasilia, local newspapers reported that she has already cleared her desk in anticipation of the Senate decision. Vice President Michel Temer will start naming his cabinet later Thursday. Former central bank chief Henrique Meirelles, who is popular among many investors, is the front-runner to become his finance minister.
Following more than five months of political turmoil that have exacerbated the worst recession in over a century and all but sidelined Rousseff's economic agenda in Congress, her departure may make Brazil's investment climate a bit more predictable and boost confidence in a country battered by rising unemployment and nearly double-digit inflation.
"There's growing expectation among the population that we can turn the page," Senator Marta Suplicy, a former member of Rousseff's cabinet who switched to Temer's party, said in the floor debate. "The challenges won't be small."
To follow the debate live click BBTV 259850986
For a quick guide to impeachment and the economic impact in Brazil, click here.
Very Difficult
If Rousseff ends up losing Thursday's vote, Temer would be in charge for 180 days or until the Senate permanently ousts her. She is charged with having illegally tapped state banks and taken loans to cover up budget deficits. Most analysts agree it will be very difficult for Rousseff to recover support in the Senate and avert a final ouster, not least because she will no longer have control over discretionary spending for legislators' public works projects.
Rousseff is expected to remain in the official residence, though the Senate will determine whether she will lose other executive privileges, such as the right to use the presidential plane, or take a cut of her salary. She is scheduled to speak to the press at 10 a.m. on Thursday.
The days leading up to the vote have been unusually tense. On Monday the head of the lower house annulled impeachment sessions, threatening to derail the entire process, only to revoke his own decision at midnight. After his first announcement, labor unions celebrated by hanging banners from the windows of the presidential palace. After his second, they burned tires. Markets seesawed on the news and eventually held onto gains. The real strengthened 0.7 percent on Wednesday. It has rallied nearly 15 percent so far this year, regaining some of the ground lost last year when Brazil's downturn began.

"Neglect of the economy brought Brazil to the deepest recession in our history," Senator Aecio Neves, who was runner-up in the 2014 presidential election, said in the senate deliberations.
No 'Hope'
While financial markets have rallied this year on the prospect of a more business-friendly Temer taking over, there are also concerns that an ongoing corruption scandal and wide-spread disillusionment with the political establishment could come back to haunt the 75 year-old constitutional lawyer.
A Datafolha poll published last month showed 61 percent of respondents support Rousseff's removal from office, while Temer fared only slightly better with 58 percent calling for his ouster.
"People don't have hope in a Temer government," Senator Gleisi Hoffmann, Rousseff's former chief of staff, said during the chamber's deliberations.
Before it's here, it's on the Bloomberg Terminal.
LEARN MORE