Brazil President Dilma Rousseff Suspended After Losing Impeachment Vote
by , , and
Senators voted 55 against 22 to open impeachment trial

VP Temer is expected to name some cabinet members Thursday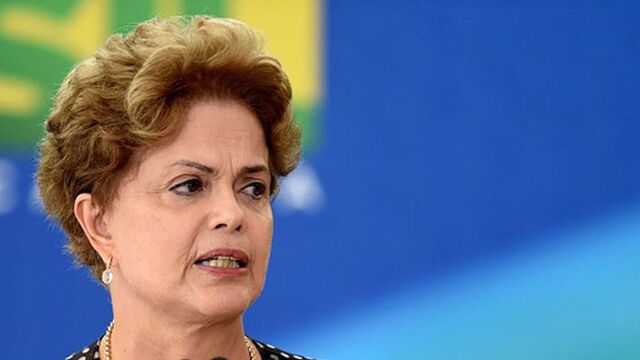 Brazil's Senate voted to suspend President Dilma Rousseff from office, ushering in a new government after months of political turmoil in the recession-wracked country.
QuickTake Brazil's Highs and Lows
Legislators agreed on Thursday after a marathon session that lasted 21 hours to try the president on allegations she illegally doctored fiscal accounts to mask the size of the budget deficit. The vote was 55 to 22. She will now face an impeachment trial in the Senate.

"From the moment she receives the notification, the process of impeachment for the crime of responsibility takes effect," Senate President Renan Calheiros said after voting ended. She is expected to be notified at 10 a.m. and give a press conference around that time.
Trading in Europe signaled Brazilian equities were set to extend this week's gains. The Lyxor ETF Brazil, an exchange-traded fund, rose 1.1 percent in Paris. While Brazil's Ibovespa slipped 0.6 percent on Wednesday, the gauge is up 2 percent this week.
Rousseff, a one-time guerrilla fighter, now must step down and stand trial in the Senate, a process that could wrap up by September, according to the head of Brazil's largest party, the PMDB. She will maintain some presidential privileges such as an official residence, a salary, a security detail and personal staff. Vice President Michel Temer, 75, will take over as interim president. Many expect the switch to be permanent.

Unlike the mass protests earlier in the year for and against impeachment, the turnout of demonstrations in the run-up to the Senate vote was small, with only isolated clashes with police reported. The vote itself was also more serene than the raucous tally in the lower house last month.
Build Support
Temer's aides said he will work fast to build support by putting in place an economic team that can revive confidence amid above-target inflation, double-digit unemployment and a near-record budget deficit. He will announce new cabinet members at 4 p.m. local time. His strategy will be to generate a sense of optimism that has long been absent in the country, said Harold Trinkunas, director of the Latin America Initiative at the Brookings Institution in Washington.
"Temer can't make a mistake now," said Senator Aecio Neves, leader of the
opposition Brazilian Social Democracy Party and runner-up to Rousseff in the 2014 presidential race.

Investors are split over whether Temer, a career politician and constitutional lawyer, can unify Brazil and revive growth. While they welcome his plan to downsize government and to make more room for the private sector, some also fear political turmoil could persist and even intensify as critics challenge his legitimacy and try to block his proposals. 
Leading members of Temer's Brazilian Democratic Movement Party are under investigation in the country's sweeping corruption probe known as Carwash. Sixty-two percent of respondents in an Ibope poll last month said new elections rather than impeachment would have been the best solution to the political crisis. Backers of Rousseff's Workers' Party, which has strong ties to unions and protest movements, have already pledged to stage demonstrations and work stoppages to push for his ouster.
"Temer is going to face enormous polarization and a very angry and incredibly mobilized opposition," said Matthew Taylor, associate professor at American University's School of International Service and former instructor at the University of Sao Paulo. "The Workers' Party will make the current opposition look like a bunch of teddy bears."
'Difficult' Comeback


Thursday's vote capped nearly six months of political uncertainty since then-lower house speaker Eduardo Cunha accepted the impeachment request. Rousseff's chances of surviving declined rapidly in recent months as the Carwash probe encroached on her inner circle and the recession eroded many of the gains that Brazilians enjoyed during the 13 years of rule by her leftist political party.
"It's difficult to see a situation where Rousseff would be able to come back," said Trinkunas at Brookings.
Before it's here, it's on the Bloomberg Terminal.
LEARN MORE