Brazil Acting President Hailed by Many But Hands May Be Tied
By and
Michel Temer, who was Rousseff's vice president, now in charge

He is market-focused but has limited belt-tightening options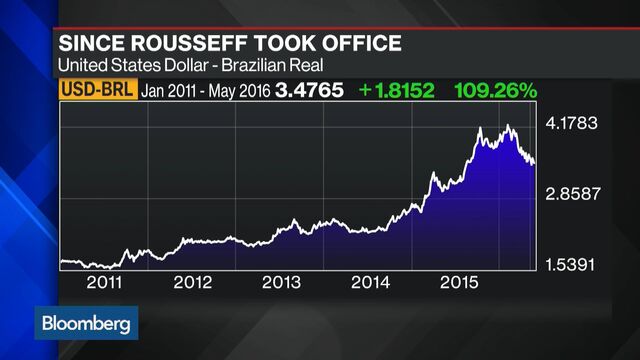 To many investors, he seems to be riding in on a white steed, a seasoned insider who will turn around an economy of epic failure and enormous potential.
Michel Temer has been the number two to President Dilma Rousseff of Brazil and now, with her temporary ouster, takes charge, buoyed by an almost evangelical market faith in him, as seen by the real's spike -- the world's best-performing currency this year -- and bond yield's plunge. It is widely expected that Rousseff will not return to power.

But the conviction that Temer simply can't fail is belied by the extraordinary challenges this 75-year-old constitutional lawyer faces: near double-digit inflation, rising unemployment, the worst recession in over a century and a multi-billion-dollar scandal that is lapping at his heels.
"There's some room for him to make progress and the economy to stabilize but those prospects have been overblown by the market," said Marcos Troyjo, who teaches and co-heads an emerging markets forum at Columbia University in New York. "If he gets implicated in the corruption scandal, that could really change the sentiment."
For a related story on Corporate Brazil's wish list for Temer, click here.
A Credible Team
To be sure, Temer has a lot going for him. He named Henrique Meirelles, a widely respected inflation fighter, as finance minister and he will have a working majority in Congress. His party has proposed measures to downsize the government. He intends to make government procurement rules more investor-friendly, grant the private sector a bigger role in the oil industry, and make public spending more efficient, according to two aides who requested anonymity to discuss plans that have not yet been made public.
Whereas Rousseff never held elected office before becoming president and was criticized by congressional leaders for not talking to them, Temer has spent three decades honing his widely-respected political skills. He presided over the lower house three times, helped draft the 1988 Constitution, and led the Brazilian Democratic Movement Party, the country's largest, for more than a decade.
"He impresses me as fairly judicious, unlike Dilma," said Riordan Roett, director of Latin American Studies at Johns Hopkins University's School of Advanced International Studies "He knows how to work with people, he knows how to reach out."
Investor optimism about Temer's capabilities made the real climb 14 percent against the US dollar and drove the Ibovespa stock index up by more than 21 percent.
Still, there are huge impediments. With unemployment rising, real wages down last year for the first time in over a decade and borrowing costs at their highest in 10 years, there is little public appetite for further belt-tightening measures.

Wedded Bliss?
Temer, who is seen by many younger Brazilians as a symbol of old-style, back-room politics, is nearly as unpopular as Rousseff was. A Datafolha poll published last month showed 61 percent of respondents supporting Rousseff's removal from office, and 58 percent also wanting Temer out.
Even his marriage to Marcela Tedeschi Araujo, a former beauty queen 43 years his junior, has suddenly come under scrutiny. After the country's largest news magazine Veja described her as "beautiful, maiden-like and a homemaker," feminists took to social media to ridicule them as embodying an outdated myth of wedded bliss.
Temer aides admit he will have to tread carefully in pursuing more austerity, focusing instead on the more long-term measures to boost confidence without squeezing average Brazilians. Temer sees no quick fix to the budget and will be in no hurry to push his party's proposal to increase the retirement age, the two aides said.
Legislators may also balk at unpopular measures to cut labor and pension benefits, especially as they eye municipal elections in October and the presidential race in two years.
"Presidents usually get a 100-day honeymoon, Temer will get half that," said Andre Cesar, founder of consulting company Hold Assessoria Legislativa in Brasilia.
Horse Trading
In a taste of the potential for early discord, Senator Aecio Neves, leader of the PSDB party that is set to become the main coalition partner, said that Temer's administration runs the risk of becoming just like Rousseff's by horse trading government posts for support.
While a government transition could provide opportunities for economic adjustment and reforms, "implementation risks will remain," Fitch Ratings company said in a May 5 report. "A deep and prolonged recession accompanied by a rising unemployment rate and the uncertainty as to the strength and stability of the governing coalition (especially for approving reforms) highlight the challenges that a potential Temer-led government would confront."
Perhaps the biggest risk for Temer is that the two-year probe into kickback schemes at state-run oil producer Petroleo Brasileiro SA engulfs some of Temer's closest aides. Senate chief Renan Calheiros and Senator Romero Juca, who is expected to take a cabinet post, are both being investigated by the Supreme Court for their involvement in the scandal. They deny wrongdoing.
As many as 40 other legislators who are expected to support Temer are being investigated on corruption allegations by the Supreme Court. Many are members of his own party.
"There are many uncertainties, not exactly over what his government will propose, but rather over what the support in Congress and the population in general will be," said Enestor dos Santos, principal economist at Banco Bilbao Vizcaya Argentaria SA. "Markets were excessively optimistic about the situation."