Bayer Seen Selling Assets in Pursuit of $43 Billion Monsanto
by and
German company may sell Covestro and animal health stakes

Combined company would have had $67 billion in sales in 2015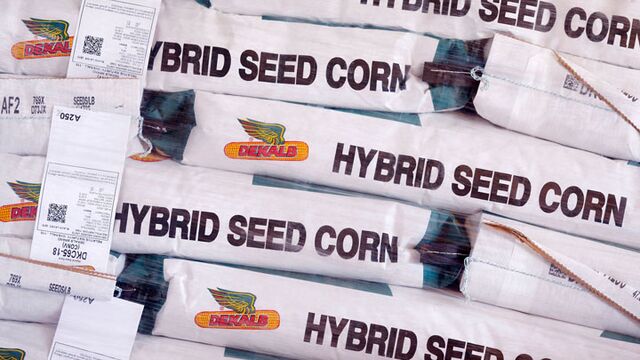 Bayer AG's exploration of a potential bid for Monsanto Co. triggered speculation that the German company might need to sell some assets to help fund its quest to create the world's largest supplier of seeds and farm chemicals.
Bayer has held preliminary discussions internally and with advisers on an offer for Monsanto, which has a market value of about $43 billion, people with knowledge of the matter said on Thursday, asking not to be named because the deliberations are private. Representatives for Bayer and Monsanto declined to comment.
A deal would give Bayer -- whose products range from blood thinner Xarelto to consumer products including aspirin to pest-control treatments for farmers -- brands such as Roundup, the world's best-selling herbicide, and more than 2,000 seed varieties. Bayer could shed its stake in its plastics unit and its animal-health business to make the acquisition work, said Colin Isaac, a chemical analyst with Atlantic Equities in London.
"If Bayer is ready to put up the billions, then voila! That's the real issue here," said Lutz Krafft, a former Bayer executive who's now a senior agricultural adviser at consulting firm ChemAdvice GmbH. "The effects on Bayer's balance sheet and the integration of the company are the two challenges."
For a quick wrap of the analyst commentary on Bayer today, click here.


Combining the two businesses isn't likely to raise significant antitrust hurdles by itself, but could intensify global scrutiny of the handful of companies engaged in unprecedented consolidation across the crop-chemicals industry. Competition regulators are already investigating the $130 billion merger between Dow Chemical Co. and DuPont Co., while national security officials in the U.S. weigh China National Chemical Corp.'s bid to acquire Syngenta AG of Switzerland for $43 billion.
Since the main product overlap between Bayer and Monsanto is in weedkillers -- which is only a small part of Bayer's portfolio -- divestitures may be enough to satisfy competitive concerns, said Jason Miner, an analyst at Bloomberg Intelligence.
Ambitious Deal
Bayer and St. Louis-based Monsanto together would have had annual revenue of $67 billion in 2015, with 37 percent from pharmaceuticals -- including over-the-counter products and diagnostics -- and 39 percent from crop-chemicals.
"It's a very ambitious deal for either company," Isaac said in a telephone interview on Thursday. "Historically, these have been fairly conservative institutions."
Investors are likely to demand at least a 40 percent premium for Monsanto, and the U.S. company may resist selling itself even at that level, according to Jo Walton, an analyst at Credit Suisse Group AG in London. That might make a purchase of the world's largest seed maker hard to digest for Leverkusen, Germany-based Bayer, which has a market value of 79 billion euros ($90 billion).
Germany's second-largest company could pay for some of the deal in cash with 15 billion euros raised in debt, Jeremy Redenius, an analyst at Sanford C. Bernstein & Co., said in a note on Thursday. It could also issue additional shares and sell assets including the animal health unit, he said.
Life Sciences
If Bayer acquires Monsanto, it could position itself as a life-sciences business, Isaac said.
Bayer has already started down that path, with the sale of a stake in its plastics business, Covestro AG, through an initial public offering last year, and the acquisition of Merck & Co.'s over-the-counter medicines in 2014. Since Jan. 1, the company has been organized under three divisions -- pharmaceuticals, consumer health and crop sciences.
The German conglomerate has made no secret of the fact that it plans to eliminate its 69 percent stake in Covestro in the medium term.
The animal health business, which makes treatments for pets and farm animals and accounts for about 3 percent of revenue, also needs to be bulked up or sold, according to Werner Baumann, who took over as Bayer's chief executive at the beginning of this month. He estimates that Bayer's unit ranks as No. 4 or 5 in the industry.
"We've always said that we want to build out further our seeds business," Liam Condon, head of crops sciences at Bayer, told analysts on a conference call April 26. "We've had some acquisitions, minor or smaller acquisitions that we've made, and we continue to look at all options that create value for Bayer."
Before it's here, it's on the Bloomberg Terminal.
LEARN MORE