Five Things You Need to Know to Start Your Day
Get caught up on what's moving markets.
by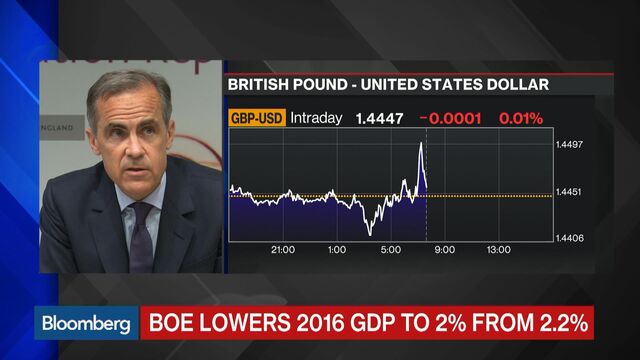 Want to receive this post in your inbox every morning? Sign up here
Brazil, bonds, and the BoE. Here are some of the things people in markets are talking about today.
Bank of England decision
At 7 a.m. ET the Bank of England will vote - barring a major shock - to maintain interest rates at 0.5 percent for the 86th time. In the vote itself, Bank of America Merrill Lynch predicts that at least one of the nine-member Monetary Policy Committee will vote for a rate cut, as economic data for the U.K. worsens. One measure now shows that the bank is more likely to cut than hike in 2016. Governor Mark Carney will give a press conference after the decision is announced and that is likely to be dominated by questions on next month's Brexit referendum.
Rousseff impeachment
After a marathon session lasting 21 hours in the Brazilian senate, legislators voted 55 to 22 to try President Dilma Rousseff on allegations she doctored the size of the country's deficit. The vote means that Rousseff will be suspended and Vice President Michel Temer will take over as interim president. According to an aide, he will announce his new ministers at 4 p.m. local time. 
Bond market
In a global bond market where negative yields are becoming the norm, things are starting to look very odd. Returns on Treasury 30-year bonds have topped 10 percent for 2016 already, with the U.S. preparing to sell $14 billion of the securities later today. In Japan, where investors have to go beyond 15-year maturity for a positive yield, demand for the world's most expensive bonds continues unabated. Even in the U.K., where the uncertainty surrounding the Brexit referendum continues, the 10-year government bond has just set its longest winning run on record. With $9 trillion of debt globally now with a negative yield, it is hard to think of there ever been a better time to be selling bonds.
Oil near six-month high
West Texas Intermediate for June delivery was at $46.66 a barrel at 6:11 a.m. ET, the highest level, on a closing basis, since November 2015. The price gain has been driven by yesterday's U.S. inventories data and this morning's report from the International Energy Agency which forecast a smaller global surplus than previously estimated. The IEA also said the Iranian output rose to pre-sanctions levels in April, a benchmark the country had previously said it needed to pass before it would engage in any production freeze talks.
Markets mixed
The MSCI Asia Pacific Index slipped 0.3 percent overnight, as a less-than-inspiring corporate earnings season dampened equity markets. In Europe the Stoxx 600 Index reversed early losses to stand 0.6 percent higher at 5:57 a.m. ET, as energy producers rallied on oil hitting a six-month high. S&P 500 futures were 0.5 percent higher. 
What we've been reading 
This is what's caught our eye over the last 24 hours.
Before it's here, it's on the Bloomberg Terminal.
LEARN MORE