Military Pressure Is Hurting Boko Haram. Now What?
by
Nigeria hosts second regional security summit on insurgency

France, U.S., U.K. contribute military, humanitarian aid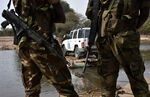 As a regional military offensive weakens the Nigerian Islamist militant group Boko Haram, French President Francois Hollande is set to push for the rebuilding of a region where the seven-year conflict has killed thousands and caused at least $9 billion worth of damage.
At a meeting Saturday in the Nigerian capital, Abuja, Hollande and regional leaders will discuss how to develop the impoverished region around Lake Chad and re-establish state authority, while keeping the military pressure on Boko Haram, according to French officials. The Jihadist group no longer controls big expanses of territory as it did a year ago after the war spread to Nigeria's neighbors, though it continues to carry out suicide bombings and massacres in remote villages.
"Development speaks to the root cause of the insurgency," said Ryan Cummings, director of Cape Town-based security consultancy Signal Risk. "Northeast Nigeria has the lowest human development indicators in the country, high levels of unemployment, high levels of poverty, and the same is seen in neighboring areas of the Lake Chad basin. It causes resentment against government and makes people engage in armed rebellion."
Security Summit
Since taking power in May last year, Nigerian President Muhammadu Buhari relocated his army's headquarters from the capital to Maiduguri, the epicenter of the insurgency, replaced his top military chiefs and vowed to recover billions of dollars stolen in defense spending corruption scandals. The Abuja talks are the second regional security summit after a meeting in Paris two years ago. The presidents of the former French colonies of Cameroon, Niger, Chad and Benin that surround Nigeria, as well as representatives of the U.S., U.K and European Union, are expected to attend.
U.S Ambassador to the United Nations Samantha Power said last month in Cameroon that about 9.2 million people across the region are in need of immediate assistance. The UN has requested for $535 million to cope with the humanitarian demands this year. Power said the U.S provided an additional $40 million, bringing its contribution to $237 million this year to help aid organizations provide protection and supplies to those affected.

The gains against Boko Haram in recent months contrast with the spread of attacks by al-Qaeda-linked militants against hotels popular with foreigners in Mali, Burkina Faso and Ivory Coast. The Nigeria-based militants are struggling to find food and supplies, according to analysts and government officials.
"This year was less violent than 2015," said Djibrilla Malam Kalla, the mayor of the Niger border town of Chetimari. "Nowadays they tend to loot villages in search of food."
Islamic Preaching
Boko Haram escalated its bloody campaign in 2009 after Nigerian police executed its then leader, Mohammed Yusuf, whose preaching against corruption, state neglect, poverty and mixing of sexes won some public support. Since then the conflict has killed tens of thousands of people and spilled over into Cameroon, Chad and Niger, displacing as many as seven million people, according to the U.S. government.
The militants have also kidnapped thousands of people, including more than 200 schoolgirls from the northeastern Nigerian town of Chibok in April 2014, which provoked the #BringBackOurGirls social-media campaign championed by U.S. First Lady Michelle Obama. Most of those students are still missing, even though thousands of others have been rescued.
Chad, Cameroon, Niger and Nigeria are bringing together a multinational force to corner and deny the militants any safe havens in the region. The U.K. last year contributed £5 million ($7.2 million) to the African Union and UN Security Council-backed force, and has trained almost 1,000 Nigerian military personnel for counter-insurgency operations in its northeast.
French Intervention
France also intervened in the fight against Islamist militants in the Lake Chad Basin region at the start of 2013, and now has about 3,000 soldiers deployed in the Sahel from Mali to Niger and Chad. President Barack Obama pledged 300 troops to Cameroon last year to carry out airborne intelligence, surveillance and reconnaissance operations.
While the support has helped, the threat from Boko Haram isn't over, according to Shehu Sani, a senator representing the northern Nigerian state of Kaduna. On Thursday, at least two people were killed and 19 injured by a suicide bombing in Maiduguri. 
"We should not be complacent because of the recent success," he said. "Areas around the Nigeria-Cameroon and Nigeria-Chad borders are not yet 100 percent free. Boko Haram behaves like it's been beaten and withdraws, only to return later."
Buhari has been more optimistic. He told CNN Television this week the army had reclaimed the last 14 local government areas from Boko Haram's control and the military has said it's pursuing only "remnants" of the insurgency.
Even though the military campaign against Boko Haram has become "more cogent," the Lake Chad neighbors shouldn't claim "mission accomplished" too quickly, Brussels-based International Crisis Group said in report last week.
"The job will only become more complicated," ICG said. "Beyond military action, more complex governance and development challenges need to be addressed."
Before it's here, it's on the Bloomberg Terminal.
LEARN MORE