Abe Lurches to Economic Left to Broaden Appeal Before Poll
by
Premier set to unveil policies aimed at less well-off voters

Needs two-third majority in upper house to change constitition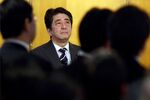 Japanese Prime Minister Shinzo Abe is shifting his economic policies to the left in a bid to broaden his appeal ahead of a key election this summer.
In stark contrast to his opening Abenomics salvo three years ago that weakened the yen and boosted corporate profits and stock prices, the premier is now poised to unveil policies more attractive to poorer voters than big business. He'll unveil this package, called "a plan to promote dynamic engagement of all citizens," later this month.
Likely to be included is a proposal to mandate wage increases for part-time and temporary workers, scholarships for less wealthy students and improvements to child care and conditions for nursery-school teachers. The policies initially were part of the platform of the main opposition Democratic Party, whose leader Katsuya Okada told reporters Wednesday that Abe opposed these policies until about a year ago.
The shift comes as the stock market declines and wages remain stagnant amid few signs that the world's third-largest economy will snap out of its deflationary malaise. Abe must secure a two-thirds majority in the upper-house election slated for July for him to push on toward fulfilling his dream of revising the nation's post-war pacifist constitution.

"For Abe, the economy is a prerequisite to keep him in office and push his conservative agenda such as constitution change," said Goushi Kataoka, senior analyst at Mitsubishi UFJ Research and Consulting Co. in Tokyo. "He's not sticking to any particular economic policy. Anything that enables Japan to get out of deflation will do."
Yasutoshi Nishimura, secretary general of the ruling Liberal Democratic Party's panel on the "engagement of all citizens," calls this an "evolution" of the initial plan.
"We'll provide greater benefits for the more vulnerable," said Nishimura, who previously served as deputy economy minister. "This is an evolution of Abenomics. We'll create a cycle of growth and redistribution."
Widening Disparity
Abe came into office in December 2012 brandishing his "three arrows" of bold monetary easing, flexible fiscal policy and a growth strategy to encourage business investment that included corporate tax cuts. At first it worked as intended: the yen nosedived against the dollar, and stocks and corporate profits soared. Abe rode on this initial success to landslide victories in two subsequent national elections.
But Japan's markets started going south late in 2015, and the central bank has now pushed back four times its time frame for reaching its 2 percent inflation target. Toyota Motor Corp., Japan's biggest company by market value, on Wednesday blamed the strengthening yen as it projected its first annual profit decline in five years. Data next week is expected to show that the economy grew an annualized 0.3 percent in the first three months of the year, according to economists surveyed by Bloomberg.
Fifty-seven percent of respondents to a Kyodo news poll last month said Abe's economic policies were widening disparity in the country, with 35 percent saying they weren't.
In September, Abe unveiled what he called his new three arrows: a target of a 20 percent increase in gross domestic product; increased support for families to boost the birth rate; and social security reform that included help for people who care for elderly relatives.
"The original Abenomics has toned down recently," Kataoka said. The new Abenomics has a clear vision, he said, while adding that "it lacks a concrete plan to make it happen."
Click here to read an overview of the Abenomics project.
Teaming Up
With a poll this month by public broadcaster NHK showing 37 percent of respondents support the LDP -- compared with just 8 percent for the opposition DP -- Abe is expected to win the summer vote in the chamber. Yet the question is by how much. The Democrats are now collaborating with the smaller Communist Party of Japan on election strategy, and almost pulled off a win in a by-election in Hokkaido last month.
The "dynamic engagement" plan will be a key pillar of the LDP's manifesto for the election.
"The LDP is now saying just the same thing as we were saying. They want to remove any points of contention," said senior DP official Akira Nagatsuma. "The 'engagement' idea came all of a sudden, but they haven't shown how to finance it and what they will actually do."
Abe needs support from a two-thirds majority of both houses of parliament to be able to go to the voters with a referendum on changing the constitution -- and potentially fulfill the dream of his grandfather and role model, Nobusuke Kishi.
In 2014, Abe's cabinet reinterpreted the pacifist clause of the top law. And last year he faced down protests to push through legislation to back up this reinterpretation and expand the role of a military that hasn't fired a shot in battle since World War II.
"Seven out of 10 constitutional scholars say the Self-Defense Forces are unconstitutional. We have to seriously think about whether this situation is right or wrong," Abe said on a TV program last month. "It's hard for the ruling parties alone to get a two-thirds majority in the upper-house election."
Before it's here, it's on the Bloomberg Terminal.
LEARN MORE