World's Most Expensive Bonds Keep Selling in Land of Minus Rates
by and
CommonWealth Opportunity, Goldman Sachs call bonds overvalued

Thirty-year sale draws record-low yield though bidding ebbs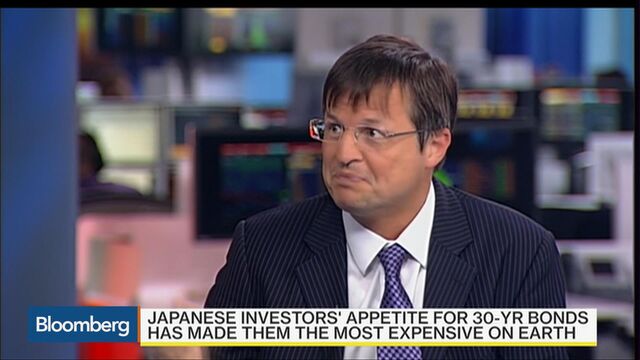 Japanese investors' appetite for 30-year bonds has made them -- in the words of one hedge fund manager -- the most expensive on Earth. And locals say they want more.
Notes maturing in 15 years or more are the only ones in the nation with positive yields, the result of unprecedented bond purchases by the Bank of Japan, leaving investors little choice but to buy even as the securities get pricier. The government sold 30-year bonds Thursday at a record low average yield of 0.319 percent, or 226 basis points less than same-maturity U.S. Treasuries.

Investors have been rewarded so far, with the Bloomberg index of Japan superlong debt surging 23 percent this year, though the central bank is bumping up against the limits of bond-buying stimulus and any rise in yields will hurt longer notes the most. Adam Fisher, the chief investment officer for the CommonWealth Opportunity Capital hedge fund said the Japanese 30-year bond "may be the most overpriced security on the face of the Earth."
"Japanese investors have to buy bonds due in 20 years more, including us," said Hideaki Kuriki, a debt investor at Sumitomo Mitsui Trust Asset Management, which oversees $75 billion. "While the BOJ buys, JGB yields will not go up."
Auction Results
While Thursday's sale drew an all-time low yield, a separate measure of investor appetite ebbed. Investors submitted orders to buy 3.01 times the amount of debt offered, the lowest level at the monthly auctions since July.
The move into longer-term securities shows central bank efforts to push investors to riskier assets have been successful. The shift also means buyers are increasingly vulnerable to rising interest rates. Debt with higher durations, such as obligations with longer maturities, suffers steeper losses when yields rise.
"It was only natural to be cautious after seeing strong demand recently," said Genji Tsukatani, Tokyo-based fund manager at JPMorgan Asset Management. "It's still at a level where it's too dangerous to sell" in the face of the BOJ purchases, he said.
Overvalued Debt
CommonWealth's Fisher has plenty of company among global investors, with Goldman Sachs Group Inc. also saying the Asian nation's debt looks overvalued, as well as some Japanese fund managers.
Investors from outside Japan cut their holdings of the nation's debt by 852.7 billion yen ($7.8 billion) in March, the latest figures from the Japan Securities Dealers Association show. That was the most in seven years.
U.S. 30-year Treasuries yielded as much as 246 basis points more than their Japanese counterparts this month, the biggest premium in five years.
Naruki Nakamura, the head of fixed income at BNP Paribas Investment Partners Japan, said he trimmed his bet on Japan superlong bonds in April and May and put the money in cash. "At this level, I am not at all inclined to increase my position," he said. His firm manages or advises on $521 billion worldwide.
Auction data show Japan is still drawing investors. At Japan's four sales of 30-year bonds this year before Thursday, investors bid for an average of 3.59 times the amount of debt offered. In the U.S., which has held the same number of long-bond auctions, the average is 2.28. The BOJ holds about a third of its nation's government debt, according to central bank data, raising concern it is running out of securities to buy.
The cost of the bonds has yet to become a deterrent, said Tadashi Matsukawa, the Tokyo-based head of fixed-income investment at PineBridge Investments Japan. The firm's New York-based parent has $82.5 billion under management.
"The supply situation is still tight," because of the BOJ's debt purchases, Matsukawa said. "We cannot sell."
Before it's here, it's on the Bloomberg Terminal.
LEARN MORE