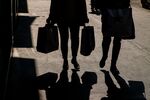 White Americans who rank among the country's top spenders are about twice as likely to stay at the upper end as their black counterparts, Federal Reserve Bank of New York research shows.

The new study delves into the concept of consumption mobility, which the researchers call a "proxy for quality of life, since what a household buys says a lot about its access to the necessities of life."  They examined whether people who made up the bottom 20 percent of spenders in 1981 had climbed by 2011, and traced how those at the top of the ladder fared.
In general, Americans were able to move out of the lower-consumption group, with only slightly more than a third of people who started at the bottom still there 30 years later. The high end was stickier: about 60 percent who started off spending richly were still at it after three decades. 

The racial breakdown tells a more nuanced tale. While both black and white heads of household climbed out of the lowest rung over time, whites were much more upwardly-mobile. And whites who started in the top-spending group were much less likely to move down — more than 60 percent stayed near the top, compared to less than a third of black consumers who began there, as the graphic below shows.  

"What is striking is the magnitude of the differences between these two groups,'' the researchers write. What's also surprising: while characteristics such as gender, age and education level totally explain the white-black mobility gap at the bottom rung, controlling for such factors doesn't totally erode the white advantage at the top.
It could be that other factors between the groups vary, the researchers write, noting that "black heads of household at the top end of the consumption distribution appear to have lower, and importantly more volatile (over the life-cycle), incomes than white heads of household." 


The study, authored by senior economist Giacomo De Giorgi and senior research analyst Nicole Dussault, uses Panel Study of Income Dynamics data collected by the University of Michigan. While it traces just one dimension of mobility — spending — older research finds that whites also have an advantage when it comes to movement between income brackets.
For instance, a 2007 report on intergenerational mobility by Julia Isaacs, then at the Brookings Insitution, found that black children from poor families were more likely to stay in the bottom fifth of earners than white children born to such families. And in 2014 research, economist Raj Chetty and his colleagues find that "intergenerational mobility is lower in areas with larger African-American populations."
Before it's here, it's on the Bloomberg Terminal.
LEARN MORE