Brazil's Top Bond Traders Bet on Local Debt as Impeachment Looms
by and
Santander, Aberdeen see most upside in real-denominated debt

New economic team poised to regain confidence in local market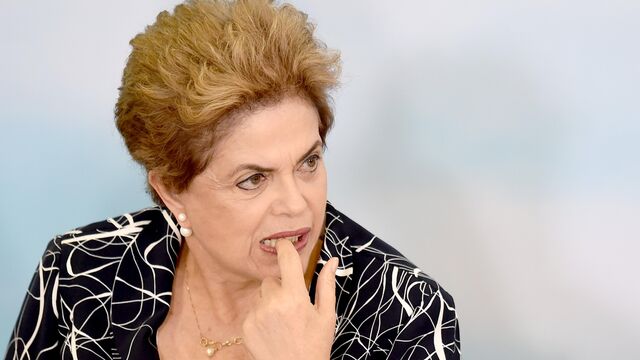 Long-time Brazil watchers say the impeachment of President Dilma Rousseff is largely a foregone conclusion, but what happens next, at least in its financial markets, is anyone's guess.
For Brazil's top two bond traders, their money is on local debt.
Santander Brasil Asset Management and Aberdeen Asset Management Plc, whose Brazil-focused fixed-income funds have posted the best returns this year among those with at least $500 million of assets, say real-denominated government bonds have the most potential as the next-in-line leader seeks to regain confidence in Latin America's largest economy.
While most analysts and investors agree that won't be an easy task, Vice President Michel Temer has more political capital than Rousseff and has already put together a more market-friendly economic team. Speculation that he'll have the wherewithal to contain a ballooning budget deficit, slow inflation and pull Brazil out of its worst recession in a century has helped turn the real into the world's best-performing currency in 2016 and fueled the world's second-biggest sovereign dollar debt rally.
"Brazilian local notes are still the most interesting pick," said Eduardo Castro, chief investment officer at Santander Brasil Asset Management. The biggest holding in his 6.2 billion-real ($1.8 billion) FI Renda Fixa Santander Oviedo fund, which has gained 21 percent this year, is the inflation-linked local bond due in 2050. "Once we see structural reforms shaping up here, the country should attract institutional investors again."
Return for Brazil's Inflation-Linked Bonds

To be sure, Rousseff's ouster isn't exactly a done deal. The Senate is scheduled to start voting Wednesday on whether to temporarily remove her from office while lawmakers weigh the allegations that she doctored fiscal accounts to mask the size of a budget deficit. While daily newspaper tallies show the opposition has more than enough votes to do just that, a surprise roadblock this week caused a short-lived market panic, illustrating the tenuous nature of this year's gains. If ever there was a day to make or break Brazilian markets, today's that day.
A yes vote in the Senate will translate into a boost in investor confidence that should extend the real's advance in the short term, making local debt even more attractive, Castro said. He expects it to end the year little changed to slightly down. His firm also forecasts the central bank cutting its benchmark Selic interest rate by 3.5 percentage points by December 2017, boosting demand for local bonds that pay the highest real rates among the so-called G-20 nations.

Brazil's local notes returned 29 percent in dollar terms this year, almost three times the emerging-market average and the best among 17 developing economies tracked by Bloomberg. The average yield on real-denominated debt fell 3.7 percentage points to 12.33 percent this year through Tuesday. The real strengthened 0.8 percent Wednesday to 3.4495 per dollar as of 3:20 p.m. in New York.
"The best risk-reward without a doubt is interest rate straight, because aside from the politics and reform agenda, you also have disinflation at your back," said Edwin Gutierrez, the head of emerging-market sovereign debt at Aberdeen Asset Management in London, which oversees an $11 billion portfolio. Aberdeen's $1.45 billion GL-Brazil Bond-A1 fund has returned 19.5 percent this year. "There's the potential for Temer to just really stop the bleeding."
Before it's here, it's on the Bloomberg Terminal.
LEARN MORE