Saudi General Says Troops to `Free' Yemeni Capital If Talks Fail
by
Having Yemen as a `failed state' is bad for everyone: Asseri

UN agencies to visit Sana'a to gauge humanitarian situation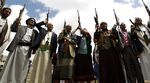 A Saudi Arabia-led coalition fighting Shiite rebels in Yemen will move on the capital Sana'a if current peace talks backed by the United Nations collapse, a senior Saudi military official said.
Yemen's warring factions are meeting in Kuwait this week for UN-brokered negotiations. The coalition hopes the talks will succeed, "but if not, today we have troops around the capital and we will get in because the goal" of securing Yemen should be achieved, coalition spokesman Brigadier General Ahmed Asseri said. If the talks fail, "Sana'a will be free soon."
"We cannot leave Yemen in a gray area," Asseri told reporters Wednesday during a visit to Washington. "Having Yemen as a failed state is not a benefit to anyone."
Asseri's comments indicate a potential escalation in military operations after Saudi Deputy Crown Prince Mohammed bin Salman, also the kingdom's defense minister, said last month that there was "significant progress" in talks and the conflict was close to ending.
Accusing Iran
Houthi rebels swept a Saudi ally from power last year before consolidating their hold over much of Yemen, including Sana'a. Saudi Arabia accused Shiite Iran, its chief regional rival, of backing the offensive as part of its struggle for regional influence, and in March 2015 the kingdom and a group of Sunni-ruled allies began a military campaign to counter it. 
More than 6,000 people have been killed in a year of fighting, according to the UN. Yemen accounted for one-quarter of all conflict-related displacement globally last year, with 2.2 million people fleeing their homes as a result of Saudi-led airstrikes, the Norwegian Refugee Council said in a report Wednesday.
In the Kuwait deliberations, "some common ground has emerged," Stephane Dujarric, the spokesman for the UN Secretary-General told reporters in New York Wednesday. 
The parties agreed "in principle" to explore a proposal to release 50 percent of all detainees held by each side ahead of the holy month of Ramadan and eventually release all detainees. The cessation of hostilities was "largely holding" in the past month, Dujarric said. This week, the UN's humanitarian affairs office, World Food Programme and World Health Organization will conduct a joint mission to Sana'a to gauge the current humanitarian situation.
Protecting Aden
Asseri said Yemeni troops backed by about 300 Sudanese security forces are protecting the southern port of Aden, now the base of the Saudi-backed government headed by President Abdurabuh Mansur Hadi. The coalition is moving into the "stabilization" phase of its operation, which includes targeting al-Qaeda's local affiliate in its southern strongholds, he said.
Special forces from Saudi Arabia and the United Arab Emirates are focused on thwarting the militants, while a "small team" from the U.S. is on the ground providing intelligence on al-Qaeda, Asseri said. Saudi and Emirati special forces don't stay in the country, and instead travel from the Saudi base in Sharurah along the border. The U.S. military carried out four airstrikes in Yemen in recent weeks killing 10 al-Qaeda operatives, U.S. Central Command said on May 6.
The militants are scattered in the southern mountainous regions, after the coalition recaptured the southern port of Mukalla from al-Qaeda with "one or two companies," Asseri said. Operations in Aden started with a brigade of about 1,000 to 1,500 troops, he said. But the coalition is reducing the foreign troop count, while increasing the number of local Yemeni fighters.
"We don't leave forces on the ground; the only forces on the ground is the Yemeni army," Asseri said. "Once we defeat al-Qaeda we don't want to have a vacuum so we need the Yemeni army in" those areas, he said.
Before it's here, it's on the Bloomberg Terminal.
LEARN MORE