Rubenstein Says He's Surprised Macro Hedge Funds 'Got It Wrong'
by
Hedge funds having worst start to year since financial crisis

Firms will 'thrive again' on performance, Carlyle co-CEO says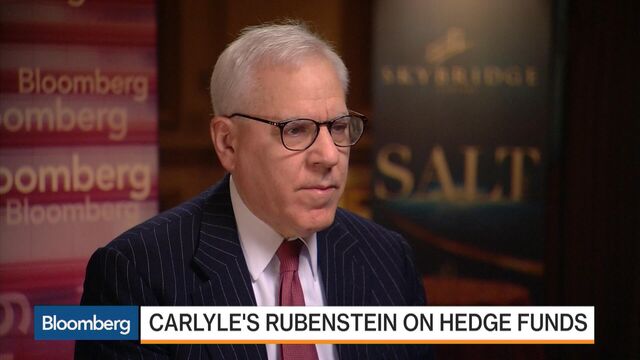 Carlyle Group LP's David Rubenstein said it was unexpected that so many hedge funds made wrong macro bets, leading to the industry's worst start to a year since 2009.
"It does seem surprising that so many macro people got it wrong," Rubenstein said Wednesday in an interview with Bloomberg Television's Erik Schatzker. "But many of them will probably do pretty well in the future. I suspect when returns come back the industry will thrive again."
In aggregate, the $2.9 trillion hedge fund industry is having its worst start to a year in performance and investor withdrawals since global markets reeled from the most severe financial crisis since the Great Depression. Third Point, the hedge-fund firm founded by Dan Loeb, last month said the industry is in the first stage of a "washout" after a "catastrophic" performance this year.
Hedge funds lost 1.9 percent in the first quarter, according to Hedge Fund Research's global index, the poorest performance since 2008. The industry had net outflows of $16.6 billion in the past two quarters, the most since 2009, according to HFR. In 2015, 979 funds closed, more than any year since 2009, according to the research firm.
Keeping Funds
Rubenstein, speaking on the sidelines of the SkyBridge Alternatives Conference in Las Vegas, said Carlyle is committed to keeping its three hedge funds -- Claren Road Asset Management, Carlyle Commodity Management and Emerging Sovereign Group -- despite losses and client redemptions in the past year.
The Washington-based firm returned $1.8 billion to hedge fund investors in the first quarter and expects to give back $1 billion to $2 billion in the next several quarters. Its hedge funds declined 4.6 percent in the first three months of the year.
"While our hedge fund people are walled off from the other information in our firm, I think they do have some benefit by being part of our firm," said Rubenstein, Carlyle's co-founder and co-chief executive officer. "If you have one quarter that's bad or two quarters that's bad and you decide to go home, you're not likely to be a very dedicated investor. All investors have challenges over a period of time."
Before it's here, it's on the Bloomberg Terminal.
LEARN MORE