markets
Five Things You Need to Know to Start Your Day
Get caught up on what's moving markets.
By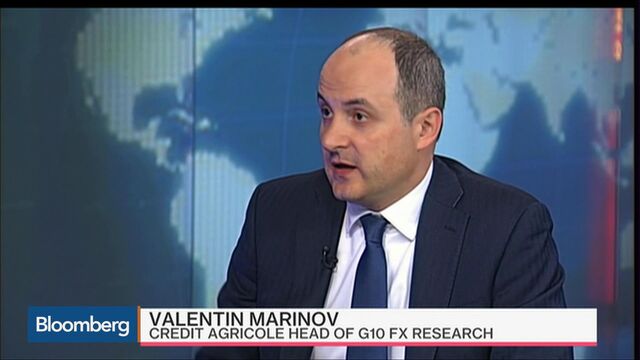 Want to receive this post in your inbox every morning? Sign up here
Time is running out for Rousseff in Brazil, Goldman sees a bottom in the U.S. dollar, and stocks are selling off. Here are some of the things people in markets are talking about today.
Rousseff's last day?
After all the confusion earlier in the week, today could be Brazilian President Dilma Rousseff's last day in office as she faces a vote in the country's senate that would force her into an impeachment trial. The vote is due at about 7 p.m. local time this evening, with only a simple majority required to proceed with the impeachment trial. If Rousseff, as seems most likely, loses the vote she will then face another vote within 180 days to permanently oust her. That vote requires a two thirds majority in the senate and most analysts agree that she would likely lose, not least because she will have lost control over discretionary spending to fund senators' public works projects.
Goldman says dollar to rise
Goldman Sachs Group Inc. says the dollar slump is over as the bank believes traders have misjudged the Federal Reserve's intentions on the interest rate path for the rest of the year. In a report published yesterday, Goldman estimated that the greenback will advance 15 percent in the next two years as U.S. monetary policy normalizes. The bank also raised its gold forecast, but its forecast levels for the next three, six and 12-months are still below the metal's current spot price. Gold is trading 1 percent higher at $1,272.50 this morning.
Go Long!
Spain is joining the group of euro-region countries offering ultra-long bonds with a planned 50-year bond offering - a remarkable feat considering that the country does not have a government and is facing new elections on June 26. Belgium and France have recently sold 50-year bonds, while Ireland, also without a government at the time, sold a 100-year bond in March. 
Markets lower
The equity market's good start to the week is fizzling out. Overnight in Asia, the MSCI Asia Pacific Index was little changed as the yen strengthened again, something that Toyota Motor Corp. highlighted as it forecast an annual loss in 2016. In Europe, the Stoxx 600 Index was 0.6 percent lower at 5:57 a.m. ET with EON SE dropping 5 percent after announcing results. S&P 500 futures were 0.2 percent lower. Not helping matters today were earnings from Disney, which sent shares close to 5 percent lower after the market closed on Tuesday. Declining subscriber numbers at the highly profitable ESPN unit may keep investors on edge.
Commodity investment
'Act in haste, repent at your leisure' could be the motto for many large commodity companies these days. This morning, Glencore Plc's billionaire Chief Executive Officer Ivan Glasenberg said that the industry should try to learn from past over-investment that now sees the world awash with metals. Vale SA, the world's biggest iron-ore producer, has said it will consider selling $10 billion of its best assets as it seeks to reduce the debt load it built up during the commodities boom. It's not just the miners that are living to regret past investment decisions. In the Arctic, Royal Dutch Shell Plc, ConocoPhillips, and other big oil companies are walking away from licences that had cost them $2.5 billion to secure. 
What we've been reading 
This is what's caught our eye over the last 24 hours.
Before it's here, it's on the Bloomberg Terminal.
LEARN MORE