Macy's Dimmer Outlook Sends Retail, Apparel Stocks Tumbling
by
Investors jolted by fears that consumers just aren't spending

Companies ranging from Wal-Mart to Michael Kors get hammered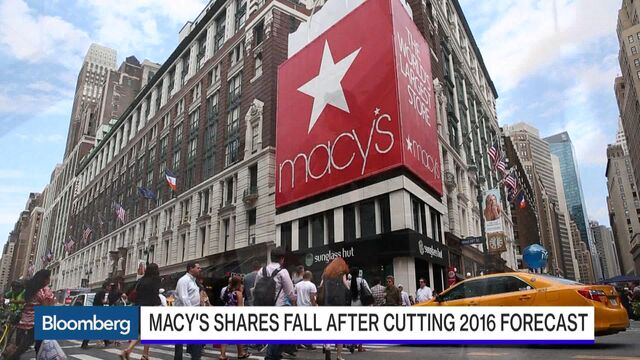 A glum outlook from Macy's Inc. renewed concerns about the broader retail industry, contributing to a stock rout for consumer companies such as Wal-Mart Stores Inc., Michael Kors Holdings Ltd., Ralph Lauren Corp. and Ross Stores Inc. on Wednesday.
Macy's cut its profit forecast for this year and posted first-quarter revenue that missed analysts' estimates -- a sign that slow foot traffic at shopping malls continues to take a toll on the largest U.S. department-store company.

Shares of Macy's plunged as much as 14 percent to $31.91 in New York, their worst intraday decline in six months. And it wasn't alone. Wal-Mart, the largest U.S. retailer, slid as much as 4.6 percent to $65.61. Target Corp. fell as much as 5 percent to $76.01, its biggest intraday drop since November.
Macy's is spooking investors with the message that consumers just aren't spending, said Ken Perkins, president of Retail Metrics. And the chain doesn't see that changing soon.
"It's beginning to feel like a new world," Perkins said.
Retail Suppliers
Companies that stock retailers with goods also got hit. Nike Inc. tumbled as much as 4 percent. VF Corp., owner of the North Face, Lee and Wrangler clothing brands, dropped as much as 5.7 percent. Michael Kors, meanwhile, plummeted as much as 13 percent.
Gap Inc., the largest specialty chain focused on apparel, also reported weak results this week. It posted a 7 percent decline in Gap's same-store sales last month. Analysts had predicted a gain of 1.1 percent, according to RetailMetrics.
Gap's evaporating sales may force the retailer to rely more heavily on real estate deals and other cost-cutting moves to maintain profit, said Fitch Ratings, which cut its long-term issuer default rating to junk status on Wednesday.
The retreat for U.S. retailers takes some of the shine off of what had been a strong year for the stocks. Even with Wednesday's drop, the group has surged 19 percent from mid-February, when the Standard & Poor's 500 Index fell to a 22-month low. It's the sixth-best performer of 24 industry groups in the three months, though much of the rally can be attributed to a 41 percent jump in Amazon.com Inc., which makes up more than a quarter of the retailing index.
Retail Positions
Investors have been adding to positions in retailers before the crush of consumer earnings. The SPDR S&P Retail ETF absorbed $194 million on Tuesday, the biggest single-day inflow in a month.
That optimism may be misplaced, according to Macy's profit forecast. The retailer now expects full-year earnings of $3.15 to $3.40 a share, down from an earlier projection of $3.80 to $3.90 a share. The Cincinnati-based company also cut its forecast for full-year sales, citing a double-digit drop in tourist spending and a slowdown in sales of some core categories.
The disappointing results from Gap to Macy's also run counter to sentiment for the group's earnings. Prior to April 11, analysts had projected retailers' profit would increase by 7.6 percent in the first quarter and 13 percent in 2016. They now see earnings jumping by 11 percent in the last quarter and 14 percent this year.
'Low Demand'
Still, some investors expected a disappointing performance from retailers. 
"No one is banking on high earnings expectations from apparel makers," said Anna Rathbun, director of research for CBIZ Inc.'s retirement-plan services unit in Cleveland. "There's low demand."
Several trends are working against a company like Macy's, said Richard Jaffe, an analyst at Stifel Financial Corp.
"The consumer is not shopping, the trends aren't inspiring them to buy, the weather isn't inspiring them to buy, the international tourist isn't spending," he said.
(A previous version of the story was corrected to fix a time period.)
Before it's here, it's on the Bloomberg Terminal.
LEARN MORE