Johnson and Brown Clash on EU as Brexit Bus Tour Hits the Road
by and
Ex-premier says Britain should be a leader in European bloc

Former London mayor backs away from Canada-style trade plan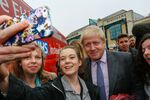 Former Prime Minister Gordon Brown made his first major intervention in the campaign to keep Britain in the European Union as Boris Johnson, the most prominent proponent of leaving, started a nationwide bus tour to push for a so-called Brexit.
Brown stressed the importance of Britain remaining in the EU, saying cooperation between member states and "the full clout" of the bloc is key to the fight against tax havens, terrorism, climate change and in controlling illegal immigration. Johnson, the former mayor of London, appeared to back away from his suggestion in March that Britain should seek a post-Brexit Canadian-style trade deal with the EU.

"Britain is in a position and should be a leader in the European Union," Brown said in a speech at the London School of Economics on Wednesday morning. "This referendum is about what kind of a leader we are and what kind of a leader we will become."
While online polls suggest the contest for the June 23 referendum is too close to call, less frequent telephone polling has put the "Remain" camp ahead. Still, political analyst Matt Singh's Number Cruncher Politics Referendum Forecast has shown the probability of an unprecedented British exit from the EU creeping up to 22 percent this week from 20 percent late last month.
'Drag Anchors'
"We should get out of the empire of EU lawmaking and instead we should have access to the single market," Johnson told the BBC from Truro in southwest England, where the bus tour started Wednesday morning. "We should make sure that we have access to the single market in the way that many other countries have."
Johnson argued that EU regulation has been "one of the drag anchors on growth in Britain."
Echoing Prime Minister David Cameron's intervention earlier this week that membership is central to maintaining peace in Europe, Brown said Britain's place isn't on the sidelines.
"What has happened in these last 70 years since the Second World War is not a temporary truce, it is not simply a cease-fire," Brown said, pacing the stage. "It is the development and evolution of a new structure of decision making."
"It is like we have not just exchanged swords for plowshares," he said. "We have made it possible so that people never think swords will be used again."
In another development, the LSE said a reduction in immigration into the U.K. if the country votes to quit the bloc wouldn't lead to any improvement in living standards for those born in Britain. "Cuts in EU immigration would not offset the big fall in U.K. living standards caused by the reduction in trade and investment that would result from Brexit," the school's Centre for Economic Performance said in a report.
Before it's here, it's on the Bloomberg Terminal.
LEARN MORE