Toyota Heralds Slump in Japanese Company Profits
by , , and
World's largest carmaker predicts $7.5 billion drop in profit

Yen reversing four-year slide that led to record earnings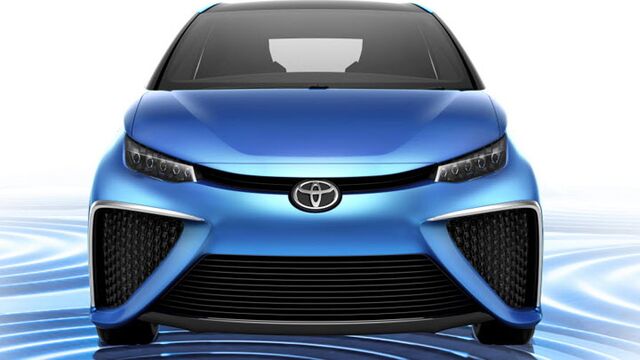 Toyota Motor Corp. President Akio Toyoda just delivered a chilling warning to Japan Inc.: the days of easy yen-fueled profits are over.
Japan's largest company said Wednesday net income will probably fall 35 percent to 1.5 trillion yen ($13.8 billion) in the current fiscal year.
Toyota joined Suzuki Motor Corp. and Japan Tobacco Inc. among companies warning about the yen. That's after a 10 percent surge in the nation's currency against the dollar this year eroded the value of sales outside of Japan, where negative interest-rate lending is getting closer to reality.
"The financial results of the last three years represent a record that has been helped by an exchange-rate tailwind," Toyoda said in Tokyo. "Now that the tailwind is gone, what we really are has become apparent."
Toyota shares slumped as much as 4.5 percent and traded down 4 percent at 5,408 yen as of 9:25 a.m. in Tokyo Thursday. The carmaker's shares have dropped 28 percent this year.
Toyota and Suzuki are budgeting on the yen averaging 105 per dollar in the current fiscal year from 120 yen in the prior 12 months, reversing a four-year decline in the yen that pushed corporate profits to a record in Japan. Earnings are slated to drop in the current quarter by the most since Prime Minister Shinzo Abe came to power in 2012 and chose Bank of Japan Governor Haruhiko Kuroda to pump money into the economy, according to forecasts from Daiwa Securities Group Inc.
"The yen's affecting Japanese companies very badly," said Edwin Merner, president of Atlantis Investment Research Corp. in Tokyo. "If you don't cut your prices you will lose business. If you lose business your production will go down and your costs will go up."
The yen traded at 108.28 per dollar in Tokyo on Thursday, compared with about 120 yen a year earlier. It touched a 13-year low of 125.86 on June 5.

Toyota, which exports Prius hybrids and Lexus NX SUVs, said foreign exchange rate changes will probably reduce operating profit by about 935 billion yen in the current fiscal year, according to a statement.
"The theories that brought us here today will no longer serve us well going forward," Toyoda said.
Suzuki's profit will probably slump 20 percent to 93 billion yen this fiscal year because of the stronger yen, the company said Tuesday.
Japan Tobacco, the nation's largest cigarette maker, said last week the yen's appreciation had worsened earnings, contributing to a 5.2 percent decline in adjusted operating profit. Profit at Japanese companies dropped 1.7 percent in the three months ended Dec. 31 from a year earlier, as the yen extended its gain from a 13-year low in June.
Daiwa Securities analyst Masahiro Suzuki predicts profits will slide 10 percent this quarter and 5 percent next.
Still, some companies are benefiting. ANA Holdings Inc. and Japan Airlines Co., the nation's largest carriers, predict record profits as a stronger yen slashes the price of fuel, one of their largest costs.
ANA predicts net income will increase to 80 billion yen this fiscal year, while Japan Airlines is forecasting a 10 percent increase to 192 billion yen.
Currency will remain the focus when companies such as Toshiba Corp. and Nissan Motor Co. report Thursday.
Before it's here, it's on the Bloomberg Terminal.
LEARN MORE