India Overhauls Century-Old Bankruptcy Laws in Win for Modi
by and
"A huge and game changing reform": Finance Ministry official

Law to help India clear up $117 billion of stressed assets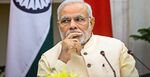 India's parliament passed a bill to overhaul archaic bankruptcy laws, taking Prime Minister Narendra Modi a step closer to fulfilling his pledge to make it easier to do business in the world's fastest growing major economy.
The upper house on Wednesday approved the Insolvency and Bankruptcy Act days after it was cleared in the lower house. The law will unify more than four overlapping sets of rules and aims to slash time taken to wind up a dying company or recover dues from a defaulter.
"A huge and game changing reform measure," Economic Affairs Secretary Shaktikanta Das said on Twitter. "It's a big day for economic reforms in India. The country moves ahead towards higher growth."
The bill's passage gives Modi a political victory after opponents blocked several other pieces of legislation, including a national sales tax. It's also one of the biggest steps in India's battle to clean up $117 billion of stressed assets. The inability to shut loss-making companies and collect on dues had locked up funds at banks and damped lending and investment.
The speed at which the bill was approved shows that battling bad debt is "on top of the government's agenda," Varun Gupta, a partner at KPMG India, said in a statement. "The Code comes as a relief to workers and employees who are left unpaid by defaulting companies."
Creditors in India recover about 25.7 cents on the dollar in the 4.3 years that it takes to resolve insolvency, World Bank data show, compared with 80.4 cents in the U.S. after less than half that time. The new law prescribes 180 days and empowers agencies to sell the creditor's assets to repay debtors.
'Watershed Moment'
Ex-billionaire Vijay Mallya, whom the authorities are looking to extradite to India following charges of willful default, is the latest example of how the nation's web of complex insolvency laws affected companies, lenders and workers. Mallya, who is now in the U.K., has denied wrongdoing.
The new law will provide easy access to information on creditworthiness and experts brought in to revive or wind up a company would be strictly regulated to avoid malpractices, a government-appointed panel that studied the bill said last year. The involvement of insolvency professionals will ensure "quick and credible" results, said Siby Antony, chief executive officer at Mumbai-based Edelweiss Asset Reconstruction Co., the nation's biggest.
"Recovery cases that are stuck in courts and debt recovery tribunals will be refiled under this law," Antony said by phone. "This is a watershed moment for India's financial system and ARCs will be the biggest beneficiaries."
Before it's here, it's on the Bloomberg Terminal.
LEARN MORE