Hutchison-O2 Deal Halted by EU in New Telecom Mergers Curb
by
EU says deal may have led to higher prices and less choice

Companies' concessions weren't enough to allay EU concerns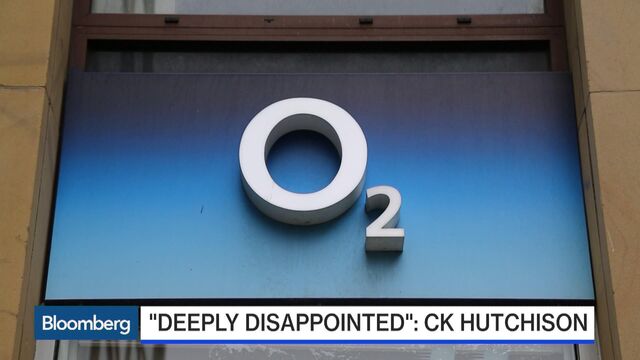 The European Union blocked CK Hutchison Holdings Ltd.'s bid to create the U.K.'s biggest mobile carrier in a hard-line ruling that may slam the door on similar deals unless operators are willing to offload more of their prized assets to preserve competition.
Hutchison's billionaire owner Li Ka-shing's plan to buy Telefonica SA's O2 unit in the U.K. became the first-ever mobile tie-up to be vetoed by the European Commission, after regulators said pledges to increase investment and freeze prices failed to offset antitrust concerns.


"The U.K. market is very competitive -- prices paid by U.K. consumers are among the lowest in the European Union," EU Competition Commissioner Margrethe Vestager said in Brussels on Wednesday. "If the takeover had gone ahead, this would have changed for the worse."
The EU ban is a blow to tie-ups in the fragmented European mobile industry. Regulators cleared previous deals that reduced the number of operators to three on condition that the merging companies offer space on their systems to smaller rivals that don't own their own wireless networks. The U.K. is a vibrant market for these so-called MVNOs, or mobile virtual network operators.
'Four to Three'
"If you can't find a way to clear four to three in the U.K., you're probably not going to be able to find it anywhere else in the EU," said David Cantor, a Brussels-based lawyer at Telecommunications Law & Strategy. "There were a lot of hopes that the commission and Hutchison would come to terms."

Hutchison said it was "disappointed" by the decision and that it is considering a legal challenge among its options.
"We strongly believe that the merger would have brought major benefits to the U.K.," by unlocking private-sector investment, and improving network capacity, speeds and price competition for consumers, the company said in an e-mail.
Combining O2 with Hutchison's Three unit would have led to higher prices for all operators in the U.K., the EU's analysis showed. The merged firm's involvement in both of the country's network-sharing arrangements "would have weakened" BT Group Plc's EE and Vodafone Group Plc, regulators said.


While it's the first time regulators have formally blocked a mobile-phone transaction, opposition to a Danish deal forced the companies to ditch the proposal last year. Government demands played a role when Orange SA and Bouygues SA recently scrapped a deal to merge their French phone businesses.
The ban may hamper attempts to merge network operators in other countries. Hutchison is currently trying to win EU approval for its 50-50 venture with VimpelCom Ltd. in Italy. Telecommunications operators want to merge to generate savings and relieve the pressure of cutthroat pricing, said Carlos Winzer, a senior vice president of corporate finance at Moody's Investors Services.
Pricing Pressure
"Prices have really bottomed out, companies have started to invest, they are offering more value for money and they are starting to charge a premium for enhanced services," Winzer said. This pricing pressure has mostly affected "the challengers," or newer companies to the market, which try to win market share by initially lowering prices.
Still, Vestager said the ban was "nothing new" for deal-making because regulators assess each case on its own merits and "there was no such thing as a magic number" of mobile phone operators. Previous EU approvals of mobile-phone deals addressed different situations, she said.
U.K. dealmaking is already down on uncertainty over whether the U.K. will vote to remain in the 28-nation block in a June 23 referendum. The country just had its worst quarter for deals since 2010, according to data compiled by Bloomberg. First-quarter M&A spending on and by companies in the country fell 39 percent from a year ago.
Hutchison could only have won EU approval for the deal if it helped to create a fourth network operator that replaced it or O2 in the network-sharing agreements, Vestager told reporters.
"There were companies interested in investing on this basis," she said. "Hutchison was not prepared to offer this or an equally effective remedy. What they proposed did not address all our concerns" or worries from other mobile phone companies, she said.
Hutchison offered network capacity "to one or two mobile virtual network operators," the EU said. The company also suggested selling O2's stake in a joint venture with Tesco Mobile Ltd. and striking a wholesale agreement with Virgin Mobile Telecoms Ltd. to take some of its network capacity.
Concessions Rejected
The EU, backed by U.K. antitrust and telecom agencies, didn't accept the companies' offers to sell space on their network to MVNOs. Officials have said the MVNOs don't create enough rivalry to prevent potential price increases. Regulators were holding out for the companies to sell off part of their network infrastructure.
Hutchison previously said there was "no taker" for infrastructure and spectrum that would create a fourth mobile network operator. It struck deals with Tesco, Virgin, Sky Plc and U.K. Broadband Ltd. to run services off 40 percent of its combined network capacity. It also vowed to freeze prices for five years and to invest 5 billion pounds to strengthen network coverage, reliability and data speeds.
'Commercially Unattractive'
Promises to alter future behavior "raised significant uncertainty" on how that would be defined, put in place and monitored by regulators. The proposal was also "commercially unattractive for mobile virtual operators," the EU said.
Telefonica, Spain's largest phone company, had been relying on the deal to cut its 49.9 billion euro ($57 billion) debt load as it strives to maintain its credit rating.
Chairman Jose Maria Alvarez-Pallete told reporters Tuesday in Madrid that the company has alternatives if the O2 deal failed. The EU decision won't change its financial targets, leverage ratio or proposed dividend policy, Telefonica said in an e-mailed statement after Wednesday's ruling.
Watch Next: Staples, Office Depot Shares Plummet on Abandoned Merger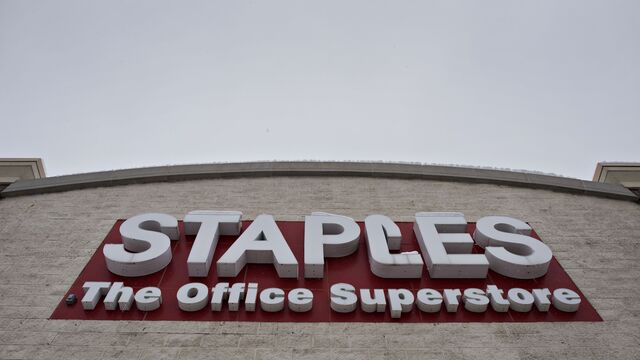 Before it's here, it's on the Bloomberg Terminal.
LEARN MORE