Gold Climbs on Investment Demand as Goldman Increases Forecasts
by and
Bullion holdings in exchange-traded funds rose for 11th day

Paul Singer says best quarter in 30 years is just the start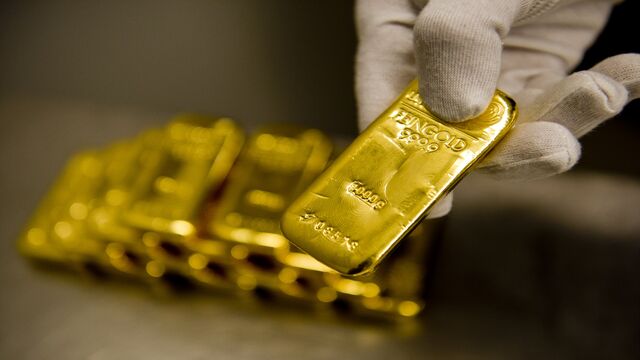 Gold climbed as assets in bullion-backed funds rose to the highest since December 2013 and Goldman Sachs Group Inc. raised its price forecasts.
Holdings in gold-backed exchange-traded funds rose 0.2 percent to 1,806.7 metric tons on Tuesday, the highest in more than two years and the 11th straight gain. While remaining bearish on the metal's prospects, Goldman increased its forecasts for bullion prices, scaling back its expectations of U.S. Federal Reserve interest rate increases over the next year. Higher rates reduce the appeal of gold, which doesn't pay interest or offer returns, unlike assets such as bonds or equities.
"We had the Goldman call of course being not quite as bearish as they were originally," James Cordier, the founder of Optionsellers.com in Tampa, Florida, said in a telephone interview. "Gold still has some legs -- we don't think it's going to run away -- but today's action is buying gold on sale."
Gold futures for June delivery rose 0.8 percent to settle at $1,275.50 an ounce at 1:49 p.m. on the Comex in New York, gaining for the first time in three sessions.
Makes Sense
Gold rose 17 percent in the first quarter, its biggest gain since 1986, and is up 20 percent this year as a slowdown in global growth and the Fed's hesitancy to raise rates boost its appeal. Billionaire hedge-fund manager Paul Singer has said that gold's best quarter in 30 years is probably just the beginning of a rebound.
"It makes a great deal of sense to own gold. Other investors may be finally starting to agree," Singer wrote in an April 28 letter to clients. "Investors have increasingly started processing the fact that the world's central bankers are completely focused on debasing their currencies."
Goldman increased its three-, six- and 12-month forecasts to $1,200, $1,180, and $1,150 an ounce from $1,100, $1,050 and $1,000, respectively, analysts including Jeffrey Currie and Max Layton wrote in a report dated May 10.
In other metals:
Silver futures gained 1.3 percent to $17.319 an ounce on the Comex.
On the New York Mercantile Exchange, platinum and palladium both gained more than 1.5 percent.
Before it's here, it's on the Bloomberg Terminal.
LEARN MORE