Berlin and Hamburg Will Force Landlords to Disclose Previous Rents
It's just the latest in a string of experiments aimed at keeping skyrocketing rents in check.
By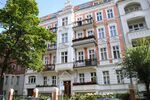 Berlin's rental laws may be among Europe's tightest, but along with those in some other German cities, they're about to get tighter still. According to a joint announcement this week from Berlin, Hamburg and North-Rhine Westphalia (Germany's largest urban area), city authorities in all three locales will soon introduce a new requirement for landlords to disclose to prospective tenants exactly how much their chosen apartment was previously rented for.
To understand why the change is necessary, you need to go back to the introduction of the so-called "Rent Price Brake" in Berlin last summer. Since June 1, rents in the city have been regulated by neighborhood and quality. An oversight body called a rental observatory now separates apartments into different categories and locations, and fixes an average rent per square meter for each group. A rise of more than 10 percent above this rate for any new contract was also banned. Voted through with substantial popular support (in a city where most people rent), the new law seemed at first to be working. As Berlin moved beyond the immediate aftermath of the law's introduction, however, rents continued to rise as before. So far, the law has met one major problem: some renters have reported landlords who were breaking the rules.
In a city where apartments are in short supply, this is perhaps to be expected. Berlin is pumping major resources into constructing new housing—proportionally far more than in less affordable, equally housing-starved London. Still, it's no great surprise that sometimes tenants with resources are prepared to turn a blind eye to rule-bending, for example by not reporting landlords for overcharging, just to get the home they want. There's also a more basic reason why the law isn't working. Without knowing know how much rent the last tenant paid, new occupants can't contest an unfair rise.
This makes chasing down a fair rent into a potentially Kafkaesque ordeal. Tenants must become amateur sleuths to track down the previous rent and then take their landlord to court to recover the money. And even if they win, they will only get reimbursed from the date at which they first filed a complaint. The number of renters prepared to go through this process has understandably been low. So if landlords have to provide this information upfront, the theory goes, the number of tenants pushing for a rent that doesn't exceed the law should rise.
There are still flaws in the process, however. A tenant whose complaint is successful will still only be reimbursed for overpaid rent from the date of their first complaint, rather than the date when they were first overcharged. It is also up to individual tenants to pursue each case. Making small legal claims is more common in Germany than in many countries, but having to take personal responsibility for a case could easily dissuade the busy or the diffident.
While the new law change might not be enough in itself to ensure Berlin's rent laws work perfectly, they're still an important step towards achieving that goal. They show that German cities and federal states are prepared to adapt and tinker with the laws until they have a genuine regulatory effect. They are also matched with a proper push for new construction—Berlin has enough apartments to house 100,000 people in 12 new neighborhoods currently in the pipeline and has just banned most holiday apartments to increase the supply of available homes for locals. Berlin and other German cities may not have yet found the perfect formula to keep housing affordable. Still, they're trying hard and are displaying real political will. If they keep at it in this way, they should broker something workable and effective in the long run.