French Government Faces Confidence Vote After Labor-Law Revolt
by
Rogue Socialist lawmakers blocked government labor bill

Government used emergency measure to bypass lower house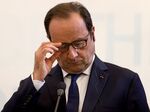 French President Francois Hollande's government faces a confidence vote in parliament after he was forced to use an emergency measure to push through an overhaul of labor rules amid opposition from his own lawmakers.
If the Socialist government fails to win a majority in the National Assembly in Paris on Thursday it will be forced to resign en masse. No administration has lost a confidence vote in France in more than half a century and most Socialist lawmakers who oppose the bill indicated in the past 24 hours they aren't ready to bring down the government. The vote is scheduled to take place from 4 p.m. local time.
"I don't think there is a risk we'll lose the confidence vote," government spokesman Stephane Le Foll said Wednesday after the cabinet met. "I hope not."
On Tuesday, Prime Minister Manuel Valls chose to use a constitutional directive to bypass the lower house of parliament and push through a bill that would ease protections for French workers. Following the cabinet's move, the opposition called the confidence vote.
Hollande's use of the emergency measure -- which he also employed for another economic-reform bill last year -- shows the scale of the opposition he's facing as he seeks to jump-start a slowly recovering economy a year before his term ends. With the jobless rate just beginning to fall from its highest level in more than 20 years, many within Hollande's party see the bill as a measure to reduce job security and make it easier to fire workers.
Labor Minister Myriam El Khomri had to water down the legislation by dropping a cap on severance pay after unions and students organized demonstrations across France. Unions have called for strikes and marches for May 18 and 19.
In February last year, Valls won a confidence vote after using the directive to pass an omnibus bill by Economy Minister Emmanuel Macron that included measures allowing more stores to open on Sundays and ease restrictions on firing.
"Conservative politicians don't want things to change," Valls said in an interview on French television station TF1 on Tuesday. "Do you think it gives me pleasure to use this institutional weapon? It breaks my heart to use this tool."
Before it's here, it's on the Bloomberg Terminal.
LEARN MORE