EON Falls Most in Four Months on Concern Over Nuclear Exit Cost
by
Utility ready to take capital measures to fund atomic exit

Reiterates 2016 net income forecast of 1.5-1.9 billion euros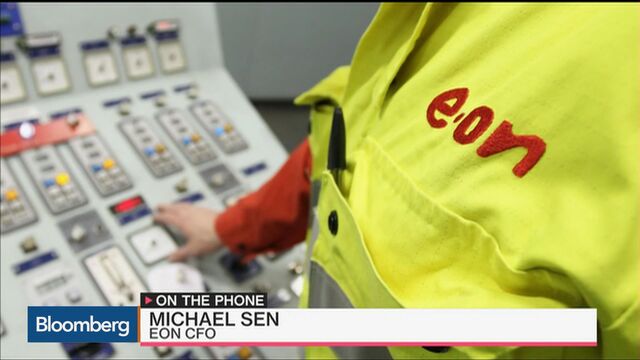 EON SE fell the most in four months on concerns about how much new capital Germany's largest utility will need to fund the nation's exit from nuclear power. 
The Essen-based utility is "ready to take measures" to protect its balance sheet under a decommissioning agreement with Germany, Chief Financial Officer Michael Sen said in a Bloomberg Television interview. EON earlier reported a 30 percent increase in first quarter underlying net income that beat analyst estimates.
EON is working on how to fund Germany's exit from nuclear energy, including the possibility of accessing capital markets, Sen said on a conference call. He estimated a payment of about 10 billion euros ($11.4 billion) will be needed under a proposal by a government-appointed commission. While EON would be able to cancel about 8 billion euros of provisions for waste storage, the remainder would reduce equity and weigh on its BBB+ rating, he said.
"Keeping a BBB+ will be a challenge if, as part of a nuclear deal, the company contributes financial assets into a state-run fund," analysts at Jefferies International Ltd. including Ahmed Farman wrote in a note.

EON closed down 5.6 percent, its biggest slump since Jan. 4, in trading volume that was more than twice the daily three-month average. The stock was the biggest decliner in Germany's Dax stock index, falling to 8.022 euros in Frankfurt. Rival RWE AG, which is scheduled to report first quarter earnings on Thursday, was the third-biggest loser in the benchmark index.
EON, RWE and other German utilities will probably have to pay about 23 billion euros to cover the costs of storing their nuclear waste once they close reactors by 2022. That's what a government-appointed panel recommended in exchange for having the state assume unforeseen liabilities associated with the waste storage exceeding that figure.
While the proposed risk premium is "financially punitive," paying it would result in getting rid of the liability "for good," Sen told analysts on a conference call.
Profit Boost
The utility's net income rose to 1.31 billion euros in the three months through March, beating the 1.28 billion-euro average estimate of 7 analysts surveyed by Bloomberg. Revenue fell 12 percent amid a slide in power prices.
Profit jumped after a one-time adjustment of a natural gas contract with Gazprom PJSC. The agreement with Gazprom ended a two-year arbitration process in March and enabled EON to cancel some provisions recorded in earlier years, boosting first-quarter earnings by about 400 million euros, the utility said Wednesday in a statement.
The utility shifted its fossil-fuel plants and trading into a separate company called Uniper on Jan. 1. The move is one of the most radical responses yet to Germany's shift toward wind and solar generation, a policy that's undermining power prices and hurting profitability at traditional utilities. The revamped version of the company is focusing on renewables, networks and retail consumers.
Most of the company's conventional power-plant business that weighed on earnings will be listed on the Frankfurt Stock Exchange as early as August. EON is targeting underlying net income of as much as 1 billion euros this year after spinning off its Uniper unit, it said last month. The utility will list 53 percent of the new unit, pending approval at a shareholder meeting on June 8.
Net debt fell 4.1 percent to 26.6 billion euros. The utility reiterated its forecast for net income of 1.5 billion euros to 1.9 billion euros for the whole group this year.
The new EON plans about 10 billion euros of capital expenditure through 2018, it said last month. It's expecting continuous earnings-per-share growth of 5 percent to 10 percent a year.
(A previous version of this story corrected CFO Sen's name in the second paragraph.)
Before it's here, it's on the Bloomberg Terminal.
LEARN MORE