business
ECB Said to Consider Putting New Greek Waiver on June Agenda
By , , and
Greek banks reliant on emergency liquidity since Feb. 2015

EU officials may sign off on bailout review this month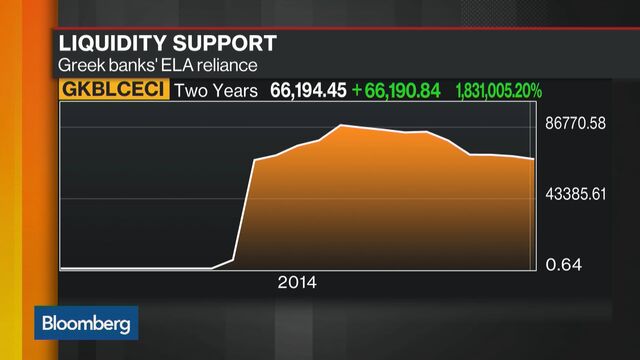 The European Central Bank could discuss restoring Greek banks' access to its refinancing lines as soon as their June 2 policy meeting, people familiar with the matter said.
A new waiver on Greece's junk-rated debt will probably be proposed by the ECB board once a staff-level agreement between the government and auditors representing creditor institutions is reached, the people said, asking not to be named as the matter is confidential. A spokesman for the central bank declined to comment. The Governing Council doesn't have to accept board proposals.
Euro-area finance ministers meeting in Brussels on Monday signaled they could sign off on Greece's bailout review at their next meeting on May 24 once the country has legislated the final actions required for loan disbursements. Greek collateral has been without a waiver since February last year, forcing the nation's banks onto Emergency Liquidity Assistance, when the new government said it wouldn't complete its aid program at the time because of the austerity measures required.
"We're nearly five months overdue with the first review, but it's important to appreciate that Greece has traveled a very considerable distance in that time," said James Nixon, an economist at Oxford Economics in London. "Despite the anti-austerity rhetoric and posturing of the government, Greece has done nearly all that was asked of it."
Greek government bonds would only become eligible for inclusion in the ECB's quantitative easing program following completion of the bailout review, and decisions on debt relief measures and the ECB's own debt sustainability analysis, the people said. Given progress so far, they will probably be eligible after the summer, they said.
Greek bank shares fell 1.8 percent as of 4.18 p.m. Athens time on Wednesday, after rising 6.7 percent on Tuesday. The yield on 10-year Greek government bonds fell 28 basis points to 7.49 percent.
The country's banks relied in March on 66.2 billion euros of ELA, which is 1.5 percentage points more expensive than the ECB regular refinancing operations.
That's down from 86.8 billion euros last year, after Greeks pulled out a quarter of their deposit base during protracted bailout talks that threatened the country's place in the euro area and led to the imposition of capital controls at the end of June.
"We always expected the Greek waiver to be reinstated immediately after successful review conclusion," said Paris Mantzavras, an analyst at Athens-based Pantelakis Securities, who estimates that reinstating the move could boost the banks' net interest income by an annual 150 million euros. More benefits could accrue if the waiver improves confidence enough to increase their access to interbank markets and accelerate a return of deposits, he said.
— With assistance by Vassilis Karamanis
(
Updates with comment from analysts starting in fourth paragraph.
)
Before it's here, it's on the Bloomberg Terminal.
LEARN MORE