ECB Can Still Pull Rabbits Out of the Hat, Council Member Says
by and
Lithuanian central bank governor speaks in Bloomberg interview

Says existing stimulus should work but more could be done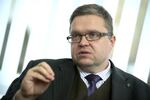 The European Central Bank can still conjure up policy surprises if needed to combat economic shocks and restore euro-area inflation, Governing Council member Vitas Vasiliauskas said.
"Markets say the ECB is done, their box is empty," Vasiliauskas, who heads Lithuania's central bank, said in an interview on Tuesday in Vilnius. "But we are magic people. Each time we take something and give to the markets -- a rabbit out of the hat."
Under President Mario Draghi, the ECB has shown a willingness to take policy into unprecedented areas including negative interest rates, ultra-cheap long-term bank loans and a quantitative-easing program that has been both extended and expanded. Yet while the 19-nation economy has returned to growth, inflation remains absent and new risks such as a Chinese slowdown and the U.K.'s vote next month on whether to leave the European Union still have the potential to damage the recovery.
The 42-year-old Vasiliauskas, who was appointed to a second term on April 7, declined to comment on specific policy options, but refuted the notion that the central bank wouldn't be able to react to shocks such as a sudden worsening in the international economy.
Market Surprises
"Such conversations, such speculations are taking place before every meeting," he said. "We still have a lot of tools and we can make surprises for the market. I don't see for the moment any need for a new rabbit because we should implement what was agreed, what was announced."
The ECB's Governing Council holds its next monetary-policy meeting on June 2 in Vienna. It left policy unchanged at the last meeting in Frankfurt in April, following a decision in March to cut rates, expand QE by a third to 80 billion euros ($91 billion) a month and implement a new bank-loan program.
While gross domestic product expanded 0.6 percent in the first quarter, twice as fast as the previous three months, inflation was minus 0.2 percent last month and hasn't been near the goal of just under 2 percent in more than three years. Core prices, which exclude energy and food and are seen by the ECB as a guide to where headline inflation will stabilize, was 0.7 percent -- down from 1 percent in March.
The ECB is already thinking about how it will react when consumer prices start to rise. Austrian central bank governor Ewald Nowotny said on Tuesday that policy makers shouldn't tighten the monetary stance as soon as the headline inflation rate reaches 2 percent.
"One must have a certain assurance about the medium-term development," he said in Vienna. His German counterpart Jens Weidmann warned against extending the current stimulus too long, in a speech in Frankfurt on Wednesday evening.
Vasiliauskas said he's confident the existing measures will start to show an impact soon.
Improving Situation
"Probably we'll end this year with positive inflation and it will increase next year, and I expect more increase in 2018," he said. "The situation is improving in both areas, in GDP and in inflation. The ECB's monetary-policy decisions did a lot."
The Lithuanian governor singled out a second round of targeted long-term loans to banks as the most powerful addition to the ECB's palette. The so-called TLTRO-II potentially offers to pay lenders to take central bank cash, the idea being that they pass it on to companies and households as loans. The first operation is scheduled for June 24.
"This measure, personally for me, is very sexy," Vasiliauskas said. "It can make direct impact on the real economy."
Vasiliauskas also backed the ECB's decision this month to stop production of the 500-euro banknote. The measure was taken because of the note's perceived role in crime, though it drew criticism in countries such as Germany and Austria.
"I think modern societies shouldn't concentrate on cash -- alternative ways of payment are more effective," he said. "Personally, I was supportive. Less cash in a society is better and safer for everybody."
Before it's here, it's on the Bloomberg Terminal.
LEARN MORE