Dimon Says Online Lenders' Funding Not Secure in Tough Times
by and
Some marketplace lenders are 'quite good,' JPMorgan CEO says

Bond markets improving, and Dimon sees lots of M&A 'chatter'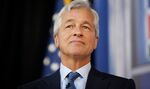 JPMorgan Chase & Co. Chief Executive Officer Jamie Dimon said marketplace lenders might find that sources of funding evaporate during a downturn.
"If they have to borrow in the marketplace with individuals, hedge funds or securitized markets, they won't be there in tough times," Dimon, who leads the biggest U.S. bank by assets, said Wednesday in an interview on CNBC. "And that's their problem. Not the other side of it. You saw that in January and February, you saw a lot of them looking for diversified sources of funding."
Marketplace lenders including LendingClub Corp. and On Deck Capital Inc., which match borrowers with creditors who want to finance them over the Internet, have been under pressure as investor demand for their loans wavered. LendingClub said Monday its founder and chief executive officer, Renaud Laplanche, resigned after an internal review found altered dates on some loans and that he failed to disclose his interests in a fund in which LendingClub was considering investing.
The banking industry could learn from upstarts, according to Dimon, who said he was in Silicon Valley Wednesday with his management team meeting technology companies. JPMorgan has partnered with On Deck to use its technology to offer small-business loans to the bank's customers.
15 Minutes
"Some of these online lenders are quite good at what they're doing," Dimon said. "They're quite good in Silicon Valley not just with technology, but also making it simpler for the customer. Going online and getting a loan in 15 minutes as opposed to 15 days through a bank."
LendingClub shares slid 3 cents to $4.07 at 12:38 p.m. in New York and have plunged 63 percent this year. On Deck dropped 2.9 percent to $4.70, extending its 2016 decline to 54 percent.
A key for the marketplace lending industry, which gained popularity during a period of low credit losses, will be how the loans perform when consumer debts sour, Chris Hentemann, founder and chief investment officer of hedge-fund firm 400 Capital Management, said Wednesday in a Bloomberg Television interview on the sidelines of the SALT conference in Las Vegas.
"You're talking about underwriting methodologies that actually haven't been tested in the markets and through a credit cycle yet," Hentemann said. "It's one of the biggest challenges in the sector."
Separately, Dimon, 60, said that economic conditions had improved from the start of the year.
"We see there's plenty of activity now, bond markets seem to be rather wide open, there's a lot of M&A chatter," Dimon said. "It's obviously far better in April and May than it was in January and February."
Before it's here, it's on the Bloomberg Terminal.
LEARN MORE