Credit Suisse: These Are The Sectors Investors Love and Hate Right Now
by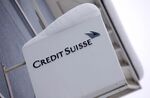 At times like these—when the overall market is flat and Wall Street in general doesn't expect the S&P 500 to move much higher through the end of the year—there's even greater interest in figuring out which stocks and sectors will outperform.
The team at Credit Suisse AG, led by Chief U.S. Equity Strategist Lori Calvasina, looked at which sectors have the most bullish and bearish consensus views from hedge funds, mutual funds, and sell-side analysts. It does this on a quarterly basis, and here are some of the takeaways from the current positioning compared to historical norms. 
Here's a look at the "crowded" trades where all three camps are in agreement:
Underweight small cap retailers
Underweight small cap household and personal products
Underweight large cap materials
Overweight large cap banks
Overweight small cap semiconductor companies and semi equipment
Overweight small cap software and services
Figuring out the bullish or bearish stances varied by investor group. For hedge funds, Credit Suisse looked at net exposure to indexes like the Russell 1000 and Russell 2000 as well as exchange-traded funds (ETFs). Compiling the mutual fund data required looking at the overweights relative to that fund's benchmark. Lastly, sell side data was determined by the net buy ratings. 
However, don't start buying large overweights just yet. The team said that this heavy consensus sentiment has them a bit concerned. There's "extreme, potentially peaking bullishness across the board," they wrote of the large cap banks. When it comes to small cap semis and semi equipment they also observed "extreme bullishness in all camps, likely [a] peak among [hedge funds]." So even though banks have struggled in 2016 due to factors such as interest rates remaining lower for longer, it might not be time to buy. 

To be the contrarian, look at a potential bottom in small cap retail where they say the positioning "supports our mid-April upgrade to market weight, but there may still be some risk of unwinding in large caps."
Before it's here, it's on the Bloomberg Terminal.
LEARN MORE