Canadian Economy Avoids Worst-Case Fears From Alberta Wildfires
by and
Survey shows 2016 growth forecasts cut 0.1 percentage point

Estimates contingent on a speedy restart of oil production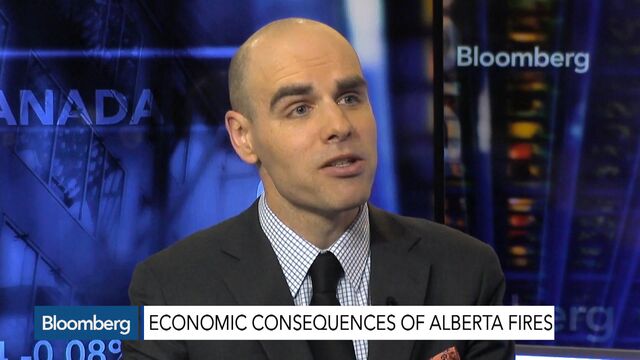 A quick restart of Canadian oil sands production will probably spare the country's economy any significant damage from wildfires that ripped through Alberta this month.
Fires that knocked an estimated 1 million barrels a day offline over the past week will trim 2016 growth by 1/10th of a percentage point, according to a the median forecast in a Bloomberg survey of 10 economists. They see the economy expanding 1.6 percent this year. The immediate impact will be to reduce second quarter annualized growth by 0.9 points to 0.25 percent, a loss that will be made up later in the year.
Those forecasts are contingent upon a speedy transition back to normal, a scenario which looks to be playing out amid signs companies such as Suncor Energy Inc. and ConocoPhillips are planning to restart production.
"At this point it looks as though it will be more on the transitory side," said Benjamin Reitzes, senior economist at BMO Capital Markets, whose bank cut forecasts for 2016 GDP growth to 1.6 percent from 1.8 percent. "The worst fears have not been realized."
Ramping Up
Oil sands operations came out largely unscathed from the fires and companies are beginning the restart process. Even Fort McMurray, the hub of the industry, was left almost 90 percent intact.
If companies can get access to their sites by the end of this week and ramp up production over 10 days, the shutdowns would translate into a loss of about 650,000 barrels a day during a three-week period, or 14 million barrels, Goldman Sachs Group Inc. said in a note Monday.
A loss of 1 million barrels per day would effectively reduce Canadian GDP by just under 0.05 percentage points, according to a rule of thumb used by economists. Royal Bank of Canada estimates a two-week reduction of that magnitude would trim growth by 0.5 percentage points in May and by about 1 point in the second quarter.
'Modest Hit'
There are still risks that production restarts could be slowed by pipeline and power generation outages, shortages of diluent and even problems finding staff. Canadian natural gas producers are also suffering, given oil-sands operations are major customers. Another unknown is how the destruction spreads through the economy and affects areas such as consumer spending.
"It's a huge shock to Fort McMurray, a sizable shock to Alberta and for an economy of C$2 trillion, in terms of the economic impact, it's a modest hit," said Craig Wright, chief economist at Royal Bank of Canada. The key is "when does it come back on?"
The effect of the wildfires may be transitory, but they come at a time when the economy can least afford another blow. Recent data show a stalled recovery in the U.S. is spilling over into exports and manufacturing, and many economists would have been lowering their growth forecasts regardless of the fires.
Bank of Canada policy makers have pointed to the risks from weaker global growth, suggesting the central bank would be considering rate cuts had the federal government not introduced a fiscal stimulus package.
"From the bank's perspective, it reinforces the downside risks to their outlook," said Reitzes. "They were cautious before. They'll be a little more cautious now."
Before it's here, it's on the Bloomberg Terminal.
LEARN MORE