Cameron's Chat With Queen on 'Fantastically Corrupt' Nigeria Nearly Derails Trial
by
Man convicted of four counts of paying bribes to Nigerian

Judge rules jury not prejudiced by Cameron corruption comments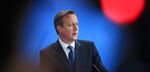 Prime Minister David Cameron came close to derailing a U.K. corruption trial after he was recorded describing Nigeria as being among "the most corrupt countries in the world" in a conversation with Queen Elizabeth II.
Lawyers for Peter Chapman, who was charged with six counts of paying bribes to a Nigerian businessman to secure banknote contracts for Innovia Securency, asked a London judge to dismiss a jury following the "blanket" press coverage of the premier's conversation.
Cameron's comments were caught on camera with the monarch, Archbishop of Canterbury Justin Welby and another lawmaker ahead of an anti-corruption summit being held in London on Thursday. Cameron's government says the summit is designed to galvanize a global response to graft and other forms of bribery.
"There is nothing that you can arguably do," David Spens, Chapman's lawyer, said in court hours before the jury convicted his client on four counts of corruption. "It's as if a dam has been burst -- there is so much publicity."
Judge Michael Grieve acknowledged the coverage had been widespread but ruled the jury, who had been in deliberations for four days, could be directed to disregard the coverage.
"You must completely ignore what you have read or heard about what the prime minister has said," Grieve told the jury. "It was almost certainly a gross generalization and certainly had no relevance on any one person in this case." 
Spens didn't return a call seeking comment after the verdict.
"We've got some leaders of some fantastically corrupt countries coming to Britain," Cameron was heard telling the queen during an event at Buckingham Palace to mark her 90th birthday. "Nigeria and Afghanistan are possibly the two most corrupt countries in the world."
Chapman paid bribes to an agent of Nigerian Security Printing and Minting Plc in exchange for the purchase of reams of polymer substrate from Innovia. The total value of the bribes he was convicted of paying to the agent was approximately $205,000, prosecutors said. He will be sentenced in London Thursday.
Before it's here, it's on the Bloomberg Terminal.
LEARN MORE