Brazil Retail Sales Disappoint as Impeachment Process Advances
by and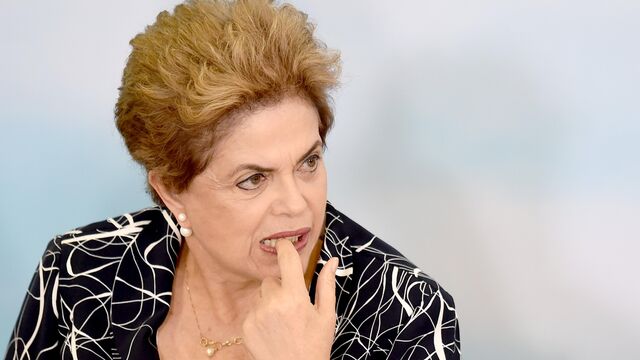 Brazil's retail sales fell more than analysts expected in March, underscoring the economic challenges Vice President Michel Temer will have to face if he takes over the nation's top job following an impeachment vote later on Wednesday.
Sales contracted 0.9 percent in March after a revised 1.1 percent jump the prior month, the national statistics agency said Wednesday. That was worse than the median estimate from 38 economists surveyed by Bloomberg, who forecast a 0.6 percent fall. Sales plunged 5.7 percent in March versus the same month in 2015.
Consumer confidence plunged in April to its lowest level on record as joblessness rose and the nation was gripped by an impeachment process that has steadily advanced toward toppling President Dilma Rousseff. Shoppers' sentiment has weighed on retailers' earnings and further depressed economic activity, with Latin America's largest nation on track toward a two-year recession that will be the deepest on record.
Swap rates on the contract due January 2018 fell 14 basis point to 12.6 percent in early morning trading.
Sales of food, beverages and tobacco products at hypermarkets and supermarkets fell 1.7 percent in March, after a 0.8 percent increase the prior month. Sales of furniture and appliances fell 1.1 percent after a 6.1 percent leap.
Retailer Via Varejo's net income in the first quarter was just 3 million reais, down 99 percent from the same three-month period of 2015, the company said Tuesday. Sonae Sierra, another retailer, reported net income fell 3.1 percent year-on-year to 18.7 million reais.
"We believe retailers will have a challenging year ahead, particularly taking into account the effects on the economy of the shaky political situation," the company said in a statement.
The floor of Brazil's Senate is scheduled to start voting on Rousseff's impeachment Wednesday, with only a simple majority required to kick off a trial. It is widely expected Rousseff will be unable to rally the support she requires after more than two thirds of the deputies in the lower house voted in favor of impeachment last month. The trial would last up to 180 days.
Brazil's economy contracted 3.8 percent in 2015 and will shrink by even more this year, according to the median forecast of economists surveyed by the central bank. Family spending fell in every quarter of 2015, with the fourth-quarter drop compared to the same period of 2014 the worst on record.

Broad retail sales, which include cars, car parts, and construction materials, fell 1.1 percent from February, and 7.9 percent versus March last year, according to the statistics institute.
Before it's here, it's on the Bloomberg Terminal.
LEARN MORE