Brazil Real Advances as Impeachment Drive Overcomes Intervention
by
Senate debate expected to last for more than 10 hours

Central bank moves to weaken the currency with reverse swaps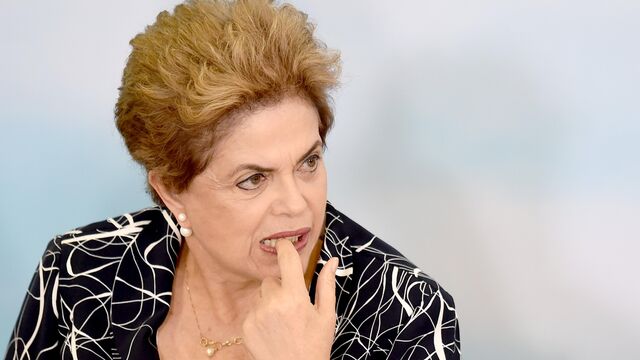 Brazil's real rose as the Senate gears up for a vote that would force President Dilma Rousseff out and into an impeachment trial she appears unlikely to survive, even as the central bank intervened to weaken the currency.
The real strengthened 0.7 percent to 3.4518 per dollar Wednesday as the monetary authority sold reverse swaps, a move that's equivalent to buying $2.4 billion in the futures market. In March, the central bank re-introduced a program created in 2005 that aims to limit the real's appreciation, and has since sold $41 billion of the contracts.

This hasn't stopped the real from being the best-performing currency in the world this year amid wagers that Rousseff's impeachment will usher in a new administration better positioned to pull the country out of its worst recession in a century. The Senate debate is scheduled to end with a vote around 10 p.m. local time, with surveys by the country's major newspapers showing the opposition has about 50 votes, more than the simple majority in the 81-seat chamber that's necessary to remove her from office temporarily.
"This move may be more sentiment based," said Sacha Tihanyi, a senior emerging-market strategist at TD Securities in New York. "While the impeachment vote should be well 'priced-in' since the polls have been showing for some time that the threshold to remove Rousseff will be easily met, one can't deny that if given the choice between 'buy and sell' BRL on the ouster vote result, the market will chose 'buy'."
One-week implied volatility in the real declined 0.02 percentage point to 19 percent, the second-highest among major currencies tracked by Bloomberg. The cost of hedging Brazil's sovereign debt against losses using five-year credit-default swaps dropped 10 basis points, or 0.10 percentage point, to 326 basis points.
Swap rates on the contract maturing in January 2017, a gauge of expectations on interest-rate moves, declined 0.035 percentage point to 13.60 percent.
Before it's here, it's on the Bloomberg Terminal.
LEARN MORE