Boris Johnson Wields His Ice-Cream Magic to Make Brexit Case
by
Former London mayor is the star turn of the Leave campaign

While he talks about sovereignty, voters talk immigration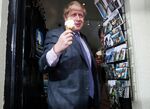 Heidi Clemo watched as Boris Johnson sampled ice cream in the Cornish harbor town of Charlestown. "Tom Hardy was naked here last week," the mother-of-two commented. "This is a lot less exciting."
QuickTake Will Britain Leave the EU?
A century ago, Charlestown, close to the southwestern tip of England, was a goods and fishing port. Now it's most famous as a filming location, used for the BBC's "Poldark" and "Doctor Who," as well as "Mad Max" star Hardy's next mini-series. The other industry is tourism: Heidi, 34, runs a campsite nearby with her husband Richard, 38.
He was keener to talk about the politics of Britain's European Union membership than Hollywood heartthrobs. "I'm undecided but leaning towards 'In,'" he said. "It's very important for Cornwall to keep the European money. It's done a lot." And he was unpersuaded by Johnson's argument that leaving the EU would lead to reduced regulation. "There's a lot of red tape in Europe, but there's a lot of red tape in Britain," he said.
Vote Leave, the official campaign to get Britain out of the EU, began its national tour in Cornwall on Wednesday ahead of the June 23 referendum. The only English region poor enough to qualify for EU economic-regeneration aid a decade ago, the far southwest is also among the areas that lean toward Brexit. A high-tech red bus emblazoned with the slogan "Let's Take Back Control" was unveiled in the city of Truro that morning, and its first official passenger was Johnson.
'Absolutely Crazy'
"This is a once-in-a-lifetime, unrepeatable opportunity for us to take back control of our country," he told the small crowd of supporters that had gathered. "It's absolutely crazy that the EU is telling us how powerful our vacuum cleaners should be and what shape our bananas should be."
Johnson, 51, the former London mayor who is one of the favorites to succeed David Cameron as prime minister, is the undisputed star of the "Leave" campaign, a politician who's recognized wherever he goes and is known simply as Boris. Vote Leave hopes his appeal will help them to reach voters turned off by most politicians.
"He's got that charisma, as if you'd known him all your life," observed John Daniels, 70, a retired docker, whose lunchtime pint at the St. Austell Brewery was briefly interrupted by Johnson posing with a beer on the third stop of the day. "He's absolutely fantastic. An Enoch Powell-type figure who tells it straight."
'Certainly Not'
Johnson wasn't delighted at the intended compliment when it was put to him later. "It is certainly not a comparison that I would want to make myself," he said. Powell became Britain's most controversial member of Parliament in 1968 when he warned of "rivers of blood" if the country didn't constrain immigration.
But while Johnson may not want to talk about immigration, voters do, and it is one of the central disputed areas in the referendum campaign. Those pushing to get Britain out of the EU say it's the only way to achieve the government's promise to cut net migration below 100,000 people a year from the current 300,000-plus. Cameron and his allies argue that even if Britain left the EU, it would still have to agree to the bloc's free-movement rules if it wanted access to the single market.
Asked how he felt about the fact that much of the support for his side was driven by opposition to immigration, Johnson, who described himself as "pro-immigration," appeared a little uncomfortable.
Muslim Ancestor
"Given that my great-grandfather was a Muslim and came to the U.K., that's obviously not what brings me into this fight," he told reporters aboard his bus. "For me this is about democracy and accountability."
Pushed as to what level of immigration he would like to see, Johnson refused to "get into the game of setting a figure." He even hinted it could stay as high as it is.
"Let me put it this way, it's too high to do without consent," he said. "That's the issue. It might be that a party or government or politicians could persuade people if they genuinely believed that it was a good thing and it was going to turbo-charge the economy and all the rest of it. What is not acceptable is to say there's nothing we can do, this is the way it is."
Ode to Joy
His hair has been trimmed from its trademark shaggy cut as Johnson tries to cut a more sober figure; he needs gravitas to be seen as a prime minister. But he can't quite manage to sustain seriousness. On Monday, he took little persuading to launch into the "Ode to Joy" -- in German -- for the cameras at a campaign speech in London.
On the bus, he tried to explain how he steers the line between popular figure and potential leader. "I think it is important to try to get the facts out there as far as you possibly can," he said. "If people are going to listen as a result of things that you do or say, if because you make so-called gaffes or you add humor to a discussion you thereby get people's interest in a debate about the EU, I don't think that is the end of the world."
In Charlestown on Wednesday, he posed for photos with an ice cream, then set about distributing flyers. Realizing this would require both hands, he handed his cone to the tourist next to him, Julia Ray, 75. She was instantly star-struck.
"I'm really pleased with myself," she said as she licked it. "We're voting 'Out.'" She turned from the press pack to her husband, surprised at her own confidence. "I can't think where it's come from -- normally you do the talking. Boris must have a magic effect."
Before it's here, it's on the Bloomberg Terminal.
LEARN MORE