Bearish Signals Build for Turkey Stocks Amid Erdogan Power Move
by
Benchmark declines 7 out of 9 days as political risk escalates

Three chart patterns point to more losses as one offers hope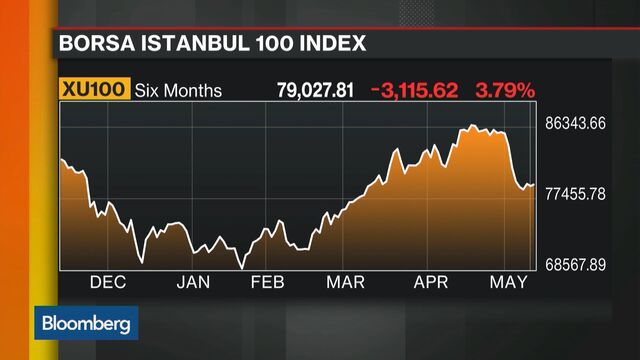 The rout that's wiped about $25 billion from Turkish stocks this month may not be over yet.
Down 8.2 percent in the period, the Borsa Istanbul 100 Index has sent several bearish signals suggesting the selloff may continue. Against a backdrop of emerging-market declines, a power struggle between Prime Minister Ahmet Davutoglu and President Recep Tayyip Erdogan surfaced that led to the premier announcing his departure.

The rift has reawakened investor concerns over the concentration of power with Erdogan, who plans to turn his largely ceremonial role into an executive presidency. The country will probably hold a referendum this year on whether to allow him to have party ties, a step toward granting him an executive office, according to one of his advisers.
At least "three indicators signal bearishness, and at this point there is no sign of reversal for the trend," said Burak Demircioglu, a trader at Istanbul-based Burgan Yatirim Menkul Degerler, by e-mail.
Directional Movement Index
The Borsa index is in a strong downward trend, according to a gauge that compares successive days' highs and lows to measure momentum. The so-called directional movement index sent a bearish signal May 2, when the negative DMI (red) line crossed above the positive (green) one. And now the average directional index (white) line, which measures trend strength, is at its highest since December.

Bollinger Band
The gap between the upper and lower Bollinger of Turkey's main index has widened to the most since December, and the price is trading near the lower one. That signals high volatility with the index already about two standard deviations below its short-term moving average.

Meanwhile the so-called Percent B signal in the bottom panel of this trading-envelope chart shows where the prices are relative to their historical moves, adjusted for volatility. It fell to the lowest level since August. When it stays low on successive days, some traders consider it bearish.
Convergence-Divergence
The bourse's Moving Average Convergence-Divergence line -- known as the MACD and used to indicate changes in an asset's direction or trend -- dropped below the red signal line last month and has fallen through the zero line, another bearish signal.

Relative-Strength Index
Some indicators are looking less bearish. "After last week's rout, the selling signals are more likely to slow down as they are nearing oversold levels," Murat Barisik, a technical analyst at Ata Invest in Istanbul, said by phone.
The Turkey benchmark's 14-day relative strength index has rebounded out of oversold territory after falling below the key 30 threshold on Friday. Technical analysts see a move out of that bearish range as a sign that stocks may be poised to reverse after falling too much.

Before it's here, it's on the Bloomberg Terminal.
LEARN MORE