As Philippines Awaits Duterte, Central Bank Gives Stability
by
Central bank holds interest rate at 4%, in line with forecasts

Duterte's camp outlines more details on economic plans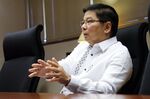 Philippines' central bank Governor Amando Tetangco has emerged as a pillar of stability for investors grappling with a brash incoming president who has little economic policy experience.
A veteran of 11 years as chief of Bangko Sentral ng Pilipinas, Tetangco, 63, has brought inflation down to the lowest in two decades, boosted foreign reserves more than four-fold and navigated the economy through the 2008 global financial crisis without it falling into recession.
With his term coming to an end in July 2017, Tetangco's challenge now is sustaining those successes through uncertain times. Rodrigo Duterte, a tough-talking mayor who is only just beginning to give more clarity on his economic plans, won the May 9 presidential election, heightening risks in the Southeast Asian economy. Investor concern ahead of the vote prompted the currency to fall and stocks to slide.
"During this transition period with a lot of uncertainty over possible policy changes, Bangko Sentral ng Pilipinas acts like an anchor for investors," said Frederic Neumann, co-head of Asian economics research at HSBC Holdings Plc in Hong Kong. "Tetangco certainly has tremendous credibility. He has a very impressive track record, steering the economy through uncertainties with a steady hand."
'Hot Water'
Duterte's comments about the central bank ahead of the election had already raised warning bells. He said the bank and anti-money laundering unit that Tetangco heads will be in "hot water" should he become president because they are suspected of having been the source of information that Duterte allegedly had hidden wealth. 
The central bank has denied it's the source of that information and said it doesn't engage in partisan politics. Duterte subsequently said during a forum with Philippine Star editors on May 4 that the central bank is doing a good job.
The peso closed 0.2 percent lower at 46.64 against the dollar on Thursday in Manila, after gaining in the previous three days. Stocks fell 1 percent.
Duterte needs to convince investors he can build on the success of an economy that's grown on average more than 6 percent annually in the past six years. He got some early help from the central bank, which held the benchmark interest rate at 4 percent on Thursday, as forecast by 14 of the 15 economists surveyed by Bloomberg.
Cabinet Appointments
The incoming president this week hinted at possible cabinet appointees, including former agriculture secretary and businessman Carlos Dominguez, who may be tapped to head the finance or transportation departments. Duterte will take office on June 30.
"The people Duterte is surrounding himself with are experienced and know that central bank independence is important," said Jonathan Ravelas, chief market strategist at BDO Unibank Inc. in Manila. "I don't think that is something to worry about. Why fix it if it ain't broke?"
Dominguez said in a televised briefing on Thursday that Duterte will continue with the current macroeconomic policy and accelerate infrastructure spending to address bottlenecks. He also plans to make the tax system more progressive and expand welfare payments to the poor, Dominguez said.
An economics graduate from the Ateneo de Manila University, Tetangco started his career with the central bank in 1974. He worked his way up from statistician at the bank's economic research department to becoming one of three deputy governors and eventually the head of the bank. Tetangco was an adviser at the International Monetary Fund from 1992 to 1994.
The central bank is in the process of transitioning to an interest-rate corridor by early June, a move it said will boost the effectiveness of its benchmark rate.
Before it's here, it's on the Bloomberg Terminal.
LEARN MORE