Amid Philippine Rally, Investors Bet on Strife-Torn Island
by and
SM Prime, Aboitiz seen as among biggest winners from election

Mindanao faces hurdles from poverty to Islamic insurgency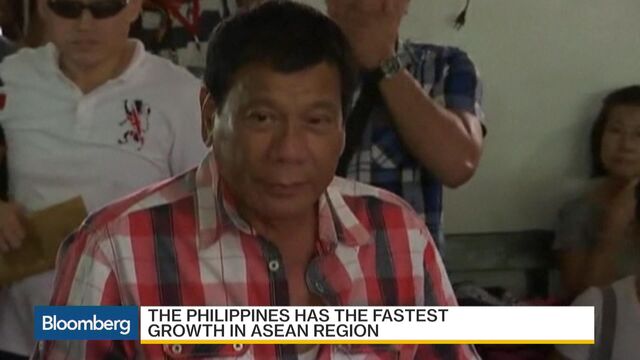 Investors are betting one of the biggest winners from the post-election markets rally in the Philippines will be an island. They may have a long time to wait.
With the Philippine Stock Exchange Index capping the largest two-day gain since 2013 after the election of Rodrigo Duterte as president, the top performers are stocks that may benefit from investment and development plans for Mindanao. The country's second-largest and southernmost island is home to 11 of the 20 poorest provinces and has suffered four decades of Islamic insurgency by Muslim extremist groups such as Abu Sayyaf.
"Buying stocks with Mindanao exposure is a good trading strategy and will be a recurring theme under Duterte's presidency," said James Lago, head of research at PCCI Securities Brokers Corp. "Investors shouldn't be throwing out valuations and fundamentals in chasing this theme. This won't happen overnight."
Equities soared this week after earlier uncertainty over the election outcome and whether economic gains under outgoing President Benigno Aquino can be sustained, given Duterte's lack of policy-making experience. The economy has posted average annual growth of 6.2 percent over the past six years, the fastest pace since the 1970s.  
Philippine stocks surged 3.1 percent on Wednesday, adding to Tuesday's 2.6 percent gain, after weeks of uncertainty over the elections that pressed on financial markets. Overseas investors bought a net $40.3 million of the nation's equities Wednesday, the most in more than a year, sending the stock measure to the highest level since Aug. 14. The benchmark index gave back some gains on Thursday, dropping 1 percent at the close of trading in Manila.

Mindanao is home to many of the Philippines' 5 million Muslims, and has produced a separatist insurgency demanding autonomy in a nation where more than 80 percent of the population is Roman Catholic. Aquino hasn't managed to get his signature peace deal with the separatist group Moro Islamic Liberation Front through Congress in his term that was aimed at ending a conflict that has killed more than 200,000 people. Kidnappers in the region, including the Abu Sayyaf group, often take hostages for ransom.
"Many Filipinos voted for Duterte because he plans to reduce Manila centrism," Victor Felix, an analyst at AB Capital Securities Inc. in Manila, said in an interview. "While initial market reaction is positive, Duterte has yet to give a clear-cut indication of how he will reduce the poverty levels in Mindanao. The property and consumer sectors have also expressed interest to expand in the Mindanao region but they don't have any clear plans yet."

Duterte, the presumptive president after the May 9 vote, is mayor of Davao city in Mindanao, where a quarter of the Philippines' more than 100 million people live. The island accounts for less than 15 percent of the national gross domestic product as a four-decade Muslim insurgency discouraged government and private sector investments. In his campaign, he vowed to forge peace with Muslim and leftist rebels.

Duterte, who will become the first president from Mindanao, will push for the southern region's economic development as "many poor provinces are located in Mindanao," spokesman Pete Lavina said in a mobile-phone message Wednesday. The island also serves as the nation's gateway to the Association of Southeast Asian Nations, he said.
Record Gains
SM Prime Holdings Inc. and Aboitiz Equity Ventures Inc., which have investments in Mindanao, soared more than 8 percent over two days to records. SM Prime, the nation's largest shopping mall developer, may accelerate a 15 billion peso three-year plan to double its commercial center space in Mindanao should Duterte push forward with his plans for the region, said Alex Pomento, vice president at the Manila-based company. 
Robinsons Land Corp., which has four shopping malls in Mindanao, has climbed 9.4 percent in two days, while Robinsons Retail Holdings Inc., which has grocers, department stores and convenience shops in Mindanao, posted its steepest two-day rally since February 2014. JG Summit Holdings Inc., which has investments in Visayas and Mindanao, has surged 12 percent to an all-time high.
San Miguel Corp. , the nation's largest company by sales, plans to increase its investments in the southern region with projects in power, steel and an industrial park, President Ramon Ang said in a mobile-phone text message. San Miguel shares rose 5.4 percent on Wednesday.
Power producers such as Alsons and First Gen Corp. also stand to benefit from Duterte's victory. Mindanao, which has vast agricultural lands and mineral deposits worth $300 billion from nickel to copper, has a power deficit of 154 megawatts, or more than 10 percent of capacity. The island has suffered periodic power outages for years because of its aging power plants and hydroelectric facilities that can be crippled by droughts.
Sin Stocks
With such problems facing the island, it's unclear how quickly transformation may take hold.
"Investors are generously interpreting Duterte's broad pronouncement of developing Mindanao and stimulating growth in the provinces. The devil is in the details," said Jonathan Ravelas, chief market strategist at Manila-based BDO Unibank Inc., the nation's biggest bank by asset. "Duterte has to come out with specifics and a timeline."
Meanwhile, some losers from the election could be so-called sin stocks. His campaign for harsher restrictions on cigarette smoking and shorter hours for bars to sell alcohol may weigh on LT Group Inc. and Emperador Inc. Both stocks slid at least 1.5 percent Wednesday.
Some investors expect more beneficiaries to be highlighted from Duterte's policies in the coming weeks as greater clarity emerges.
"There is a growing interest among investors for companies that could benefit from the changes in Mindanao with Duterte as president," said Rafael Palma Gil, a trader at Rizal Commercial Banking Corp., which manages $1.8 billion in trust assets. "Duterte wants inclusive growth so it won't only be Mindanao that stands to benefit but other areas."
Before it's here, it's on the Bloomberg Terminal.
LEARN MORE