1MDB Gets Breathing Space as Abu Dhabi Fund Pays Bond Interest
by , , and
Malaysia state fund 1MDB defaulted on separate debt last month

Default had added to financial scandals surrounding 1MDB
1Malaysia Development Bhd., the troubled state-owned investment company whose advisory board has been headed by Prime Minister Najib Razak, has gotten a bit of breathing space.
Abu Dhabi's International Petroleum Investment Co. paid $52.4 million of interest due Wednesday on 1MDB's 5.99 percent bonds that it guarantees, according to a filing to the London Stock Exchange. The development offers 1MDB respite after a dispute with IPIC resulted in the Malaysian fund defaulting on a separate note last month. While IPIC said Wednesday it made the payment after 1MDB defaulted again, this time it did so on the due date unlike in April. 1MDB's bonds surged.
Returns on debt from other Malaysian issuers have cooled amid the spat between the funds, and 1MDB remains at the center of multiple investigations stretching from Switzerland to the U.S. amid allegations of money laundering and embezzlement. It has consistently denied wrongdoing. The fund said in a statement Wednesday "it is committed to working openly with IPIC to resolve the dispute."
"You might find the IPIC-1MDB issues annoying but they are just playing hardball with each other," said Luc D'Hooge, head of emerging-market bonds in Zurich at Vontobel Asset Management, which managed $22 billion of fixed-income assets. He holds 1MDB's 5.99 percent notes. "I was not at all concerned."
1MDB Statement
1MDB and IPIC have been locked in a tussle which spilled over to repayments on 1MDB debt. That led to the default by 1MDB in April on a $50 million coupon payment on separate privately placed 5.75 percent bonds. The missed payment hit the reputation of the Malaysian government, which is 1MDB's sole shareholder. IPIC subsequently made the $50 million interest payment, and it said then and reiterated Wednesday it's asking 1MDB and Malaysia for reimbursement.
1MDB said Wednesday that while it "has more than sufficient funds to have made the interest payment," it hadn't done so "due to the ongoing dispute between 1MDB and IPIC."
Bonds Surge
The $1.75 billion 5.99 percent bonds due May 2022 climbed 2.9 cents, the sharpest increase in at least three weeks, to 103.7 cents on the dollar as of 6:20 p.m. in Hong Kong, according to prices compiled by Bloomberg.
"The 1MDB bonds are cheap and I was hoping to add more to our holding should there be more forced selling under another default this week," D'Hooge said. "We have a good appetite for these bonds as it's a good buying opportunity."
The ringgit extended gains against the dollar after the IPIC statement, and closed 0.3 percent higher at 4.035 per dollar, according to prices from local banks compiled by Bloomberg. The nation's benchmark FTSE Bursa Malaysia KLCI Index gained 0.5 percent, the most in almost three weeks.
The spat between 1MDB and IPIC is related to an agreement reached in May last year. As part of the pact, the Abu Dhabi wealth fund said then that it would assume obligations to pay interest due under $3.5 billion of 1MDB bonds that it guaranteed. IPIC said last month that 1MDB was in default of the agreement after the Malaysian fund failed to pay it more than $1 billion in connection with a loan.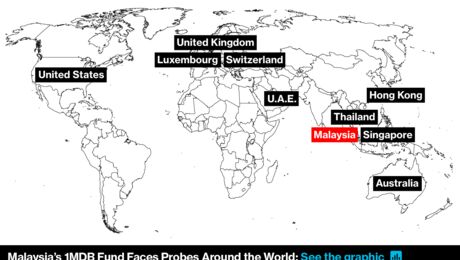 Demanding Funds
IPIC said on Wednesday that it will send a written demand to 1MDB and the Malaysian finance ministry to fully indemnify it for $1.2 billion plus accrued interest. The payment the Abu Dhabi company made last month was for 1MDB's 5.75 percent privately-placed bonds that were sold in October 2012.
"The way IPIC is looking at it is that whatever they are paying, it seems that they are going back and demanding that 1MDB or the Malaysia Ministry of Finance" pay back that amount, said Rehan Akbar, a Dubai-based analyst at Moody's Investors Service.
1MDB said on Monday that it plans to reach out to bondholders on May 23 to explain its spat with IPIC and how it plans to meet future obligations. It is also asking investors to hold off any request for early repayment on its Islamic debt, a person familiar with the matter said last week.
1MDB's missed bond coupon payment in April highlights uncertainty around the finances and governance of the fund, Sagarika Chandra, an associate director at Fitch Ratings wrote in a May 10 note. The risk to the sovereign credit profile lies more in the potential for the affair to weaken policy focus or contribute to political instability, even as there are little signs of those risks materializing, she said.
"Our view is still the same, that 1MDB remains a close contingent liability for the Malaysian sovereign," Chandra said Wednesday. The total outstanding debt of 1MDB and Malaysia "is not sufficient for us to change our view of the sovereign," she said.
Before it's here, it's on the Bloomberg Terminal.
LEARN MORE