UniCredit Capital Levels Questioned After Its Buffer Shrinks
by and
UniCredit CEO says bank's capital position not critical

Ghizzoni confident UniCredit will reach 2016 targets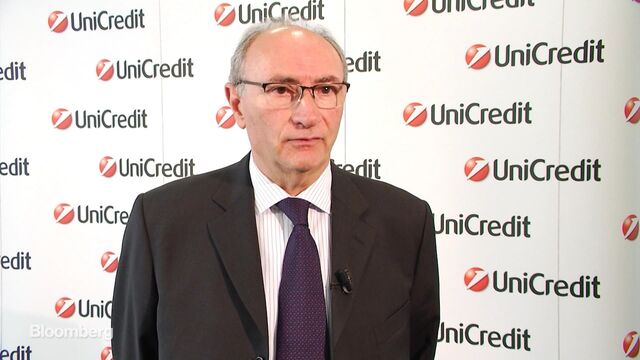 UniCredit SpA Chief Executive Officer Federico Ghizzoni faced a torrent of questions from analysts over the bank's capital strength after lending growth led to an erosion of the buffer in the first quarter.
UniCredit's common equity Tier 1 ratio, a measure of financial strength, fell to 10.5 percent under Basel III transitional rules as of March 31, from 10.73 percent at the end of December, the Milan-based bank said on Tuesday. Net income declined to 406 million euros ($463 million) from 512 million euros a year earlier.
"Good operational results, but concerns on capital remain," RBC Capital Markets analysts Adrian Cighi and Benjamin Toms, wrote in a note Tuesday. "We see the lower capital ratio as a key pressure point for investors."
Ghizzoni said he doesn't foresee any capital increase for the bank and said UniCredit would consider other options such as asset sales if it should need to raise money.
Not Critical
"I don't consider critical our capital position," Ghizzoni said in an interview with Bloomberg Television's Flavia Rotondi in Milan late Tuesday. "We keep working on organic generation of capital," as well as opportunities to improve returns and capital by the disposal of business that isn't profitable enough, he said.
UniCredit had the smallest capital margin among Italy's biggest banks after the European Central Bank's review of capital requirements for 2016. The bank's capital ratios were affected by higher risk-weighted assets due to increased lending, it said in the statement. The bank has to maintain that measure at 10 percent this year, according to a review by the ECB.
"We think the bears will not let go and the CEO will continue to be perceived as having his job at risk," if the bank fails to make progress on capital and remains short of its capital ratio target, Keefe, Bruyette & Woods analysts Hugo Cruz and Jonas Floriani wrote in a note.
For a quick wrap-up of the analyst commentary on UniCredit today, click here.
UniCredit was down 1.5 percent in Milan trading, reversing gains earlier in the day. The stock was priced at 2.95 euros as of 4:44 p.m. giving the company a market value of about 18 billion euros. UniCredit has declined about 41 percent this year.
Net income beat the 297 million-euro average of eight analyst estimates compiled by Bloomberg. Ghizzoni said in the interview he is confident the bank will reach its 2016 targets. The lender set aside 755 million euros to cover loan losses in the quarter, compared with 980 million euros booked a year earlier.
"Capital has to be seen in the overall view of the balance sheet of the bank and in particular, for Italian banks, on their bad-loan status," Ghizzoni said in the interview. "Italian banks are under pressure because of bad debt. Our results here are definitively better than many other banks."
Negative interest rates and volatile markets hit revenue, which declined to 5.48 billion euros in the first three months from 5.75 billion euros a year earlier. UniCredit's operating costs declined about 4 percent to 3.29 billion euros in the quarter as a result of lower staff costs, the bank said.
Other charges and provisions totaled 417 million euros in the first quarter, up from 264 million euros a year earlier, while integration costs were 260 million euros on the restructuring of the Austrian unit and other expenses in Italy, the bank said. The bank doesn't expect to book further charges for the Austrian unit, Ghizzoni said.
Before it's here, it's on the Bloomberg Terminal.
LEARN MORE