Credit Risk Creeping in Stocks as Low-Quality Rally Reverses
by
Companies with high debt loads underperform most since January

Low-quality stocks lag in lead up to corrections, says UBS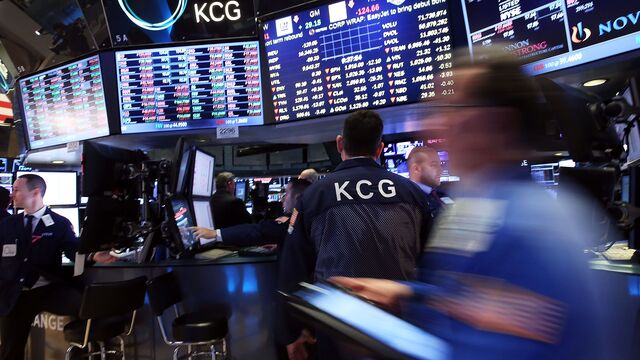 The last time corporate leverage weighed as heavily as it does now on U.S. stock selection, equities were in the grips of a decline that wiped out $1 trillion in market value.
The concern is visible in a UBS Securities LLC index of American equities racked with the most debt, which fell relative to the S&P 500 for three straight days through Monday, data compiled by Bloomberg show. It's the longest losing streak since the lead-up to the February low, when investors ditched debt-ridden companies in anticipation of broader declines.

Credit risk as interpreted by stocks was repeatedly a harbinger of equity market weakness in the past year, with weak balance sheet companies falling the most at the start of corrections in August and February. The propensity of lower-quality companies to lead the way down is raising concern in some quarters that history is about to repeat.
"Over the last two years, every time you've had bad-debt companies underperform, it means it's become a focus for the market again, and that eventually spills over to equities," Rebecca Cheong, head of Americas equity derivatives strategy at UBS, said by phone. "Especially as the Fed starts raising interest rates, it becomes more and more difficult for corporations with a very high yield to continue financially."
The Goldman Sachs Group Inc. weak balance sheet index trailed the S&P 500 by about 2 percentage points last week, the worst five-day performance since the period ending Oct. 27. It fell 2.2 percentage points more than the S&P 500 in the five trading days ending July 20, a month before the market suffered its first correction in four years.
The S&P 500 rose 1.2 percent Tuesday.
 
Stress in the credit market itself is less pronounced than it was at the start of the year, when the extra yield over Treasuries paid to owners of speculative-grade bonds peaked at close to 9 percentage points. Spreads have widened by 0.22 percentage point in the last five days but sit at about 6.5 points, data compiled by Bloomberg show.
Investors are also pulling cash out of the largest junk-bond exchange-traded fund. BlackRock Inc.'s iShares iBoxx High Yield Corporate Bond ETF has seen about 44 million shares redeemed, or about $3.6 billion, in the six days through May 6, according to data compiled by Bloomberg.
As fuel and metals prices collapsed in early 2016, energy-related companies that racked up debt during the commodities boom came under fire. Shares of Freeport-McMoRan Inc., a company that has come to epitomize commodity sector pain, have posted two of their biggest drops since March in the past week, including a 11 percent plunge Monday. Metals fell as a slump in Chinese copper purchases and an increase in steel exports revived concerns that supply gluts could worsen.
With debt again in the forefront and crude dropping the most in two weeks Monday, energy companies with weak balance sheets followed Freeport lower. Transocean Ltd. and Consol Energy Inc. sank at least 7 percent, their biggest slides since March 23. Chesapeake Energy Corp., which has a $9.4 billion debt load, lost more than 10 percent, falling to its lowest price in a month.
Prior to the slump, the Goldman basket had risen 18 percent since markets bottomed in February, compared with 14 percent in the S&P 500. Because much of the weakness is due to energy and mining stocks, there shouldn't be too much concern about it spreading to the broader market, said Howard Ward, who oversees $42.7 billion as chief investment officer of growth equities at Gamco Investors Inc.
"The question really is do you think the price of oil and other commodities will be able to sustain this uptick or not. But what happens with commodity prices is separate from the general economy," Ward said by phone. "We've had this astounding run in payroll growth and a labor participation rate that suggests the economy is moving forward, which will support profits in stocks."
 
The Goldman Sachs weak balance sheet index, which separates out the 50 most indebted companies, has trailed the S&P 500 for eight straight days by 3.3 percentage points. The index hasn't fallen by that extent for that long since September 2015.
Sometimes losses begin with energy-related companies then broaden out to affect the rest of the equity market, said Cheong. Indeed, companies with losses in the bad-debt basket included those that are not sensitive to moves in the commodity market. CenturyLink Inc., a telecommunications firm which owes more than $16.5 billion, fell 7.8 percent last week, the worst weekly decline since July 2015.
In another sign of the times, S&P Global Inc. stopped updating their low quality index last week. Because it wasn't widely used, the company decided to stop publishing the index, S&P Global said in an e-mail message.
"Yes, I'm worried about the credit cycle turning over, but also about what happens after that. How do we get people to borrow again?" Brian Frank, portfolio manager at Frank Capital Partners LLC, said by phone. "That's a theme we're looking at -- a lot of cash and gold right now. We're battening down the hatches."
Before it's here, it's on the Bloomberg Terminal.
LEARN MORE