U.S. Stocks Cap Biggest Rally in 2 Months as Commodities Rebound
by
Banks, industrials join commodity producers to drive gains

Amazon surges to record after analyst boosts target price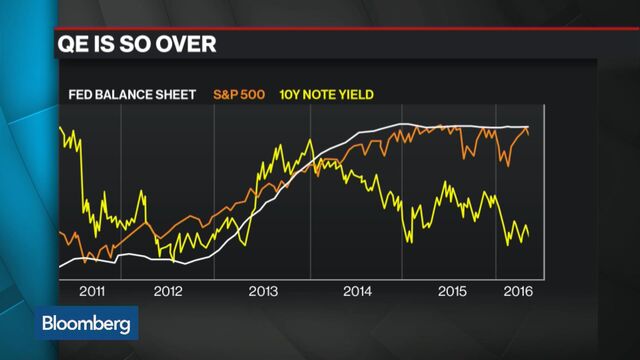 The bearish sentiment that hit traders in the past two weeks eased amid a bounce in commodities, with U.S. stocks rising the most in two months to join in equity market gains from Japan to Europe.
Energy producers, industrial shares, banks and Amazon.com Inc. were among the strongest contributors to a rally that jolted equities out of a recent torpor. The online retail giant climbed 3.4 percent to an all-time high after an analyst boosted their price target on the shares to $1,000. The Bloomberg Commodity Index rebounded from the biggest drop in six weeks, bolstering sentiment toward raw-material companies. After the markets closed, Walt Disney Co. fell as its earnings missed estimates.
The S&P 500 jumped 1.3 percent to 2,084.39 at 4 p.m. in New York, the most since March 11. The gauge ended an 18-session streak without a 1 percent move in either direction, the longest period of calm since 2014. It was a third day of gains in a recovery from the first back-to-back weekly drop since February. The Dow Jones Industrial Average added 222.44 points, or 1.3 percent, to 17,928.35, the biggest increase in eight weeks. The Nasdaq Composite Index also advanced 1.3 percent.
"Some of the same factors driving commodities are driving global growth and equities in general," said Greg Woodard, a senior analyst and strategist at Fairport, New York-based Manning & Napier Inc., which oversees about $46 billion. "If they feel better about growth in China, in emerging markets and global growth, they feel more positive about equities and commodities. The commodity space is really a barometer as opposed to driving equities."

After sliding 2.5 percent from its April high through last Thursday, the S&P 500 began a rebound on Friday as worse-than-estimated payrolls data spurred speculation the Federal Reserve will adopt a slower pace in tightening monetary policy. Traders are pricing in only a 6 percent chance of higher interest rates in June, compared with 20 percent in April. The first month with at least even odds of an increase has been pushed back to February 2017.
The main U.S. equity benchmark jumped 15 percent from its February low through April 20, when it reached a four-month high and came within 1.4 percent of the record set last year. The index has struggled since to extend gains amid lackluster corporate results, particularly from technology giants such as Apple Inc. and Microsoft Corp., as well as subdued economic indicators that damped investor appetite for risky assets.
As the earnings season draws to a close, analysts have moderated their predictions for a decline in first-quarter profits to 7.4 percent, from 9.5 percent at the start of April. So far, about 75 percent of the firms that have released results beat profit estimates, and 55 percent exceeded sales projections. Walt Disney tumbled 6.2 percent as of 4:42 p.m. after its results missed analysts' estimates as earnings at the company's ABC TV network and consumer-products division declined.
Job Openings
Along with earnings, investors continue to scrutinize data for clues on the health of the economy and the path for interest rates. A report today showed signs the labor market remained solid in the first quarter, as job openings rose more than projected in March to the second-highest in data back to 2000.
The CBOE Volatility Index fell 6.5 percent Tuesday to 13.63, slipping for a fourth day to a two-week low. The measure of market turbulence known as the VIX is down 13 percent so far this month, after a 13 percent climb in April. About 6.7 billion shares traded hands on U.S. exchanges, 12 percent below the three-month average.
Meanwhile, Tuesday's trading was an about-face from yesterday's session as commodity sensitive sectors led gains among the S&P 500's 10 main groups. Energy and raw-material producers climbed as much as 1.8 percent as oil rose 2.8 percent from a two-week low, amid concern supplies from two of Africa's largest crude reserves could be disrupted. Hess Corp. and Devon Energy Corp. advanced more than 4.9 percent, while services giant Schlumberger Ltd. added 2.1 percent.
Financial companies also recovered from yesterday's losses, advancing 1.4 percent as a group. Leucadia National Corp. gained 5.9 percent, the most in more than four years, after agreeing to acquire ITG Investment Research. JPMorgan Chase & Co. and Bank of America Corp. rose at least 1.3 percent, while the KBW Bank Index had its strongest climb since April 13. Goldman Sachs Group Inc. increased 2.5 percent, the steepest in almost three weeks.
Amazon Leads
Amazon climbed for a third day after Sanford C. Bernstein & Co Inc. analyst Carlos Kirjner lifted his price target on the shares to a street-high $1,000 from $770, citing profit margins that are likely to expand faster in the next two years. The stock has surged 46 percent in three months, the biggest contributor to the S&P 500's rebound from a 22-month low.
Boeing Co. climbed 2 percent, one of the Dow's biggest gainers today. The planemaker is scheduled to meet with analysts tomorrow, and is in the midst of defending its rainmaker 737 jet as its competition grows. With its fate tied closely to the prospects for commodities, Caterpillar Inc. flipped from worst in the Dow yesterday to second-best today, rising 2.4 percent.
Among other industrial stocks, Dun & Bradstreet Corp. gained 7 percent to a nine-month high after it reported earnings yesterday that beat analysts' estimates. Railroads Union Pacific Corp. and Norfolk Southern Corp. increased more than 1.7 percent. As a group, industrial shares in the S&P 500 rose 1.7 percent, the most since March 17.
International Flavors & Fragrances Inc. led gains among raw-materials companies, surging 5.3 percent to a record after its quarterly sales and earnings exceeded predictions. Dow Chemical Co. increased 1.4 percent and Freeport-McMoRan Inc. rose 3.2 percent after an 11 percent slide on Monday.
Tech, Health-Care
Technology companies advanced for a fourth day, the longest streak of gains in seven weeks. Microsoft Corp. and Google parent Alphabet Inc. each added at least 1.4 percent. Akamai Technologies Inc. and Western Digital Corp. topped the group, rising more than 3.6 percent.
Health-care shares were near the bottom of the S&P 500's 10 main industries, though still closed with the best two-day gain in a month. Allergan Plc rose 5.3 percent as the maker of the anti-wrinkle injection Botox plans to buy back as much as $10 billion in stock after completing the $40 billion sale of its generics business to Teva Pharmaceutical Industries Ltd. The company also reported earnings that beat analysts' projections.
Pfizer Inc. was one of two Dow components to decline, closing little changed after falling as much as 1 percent. Zoetis Inc. slipped 2 percent after people familiar with the matter said Pershing Square Holdings Ltd., the publicly traded security of Bill Ackman's activist hedge fund, is selling part of its stake in health-care company.
Gap Inc. was the biggest loser in the S&P 500, falling almost 12 percent after the apparel chain posted disappointing results. The shares sank to the lowest since January 2012. Kohl's Corp., Urban Outfitters Inc. and Macy's Inc. each lost more than 1.5 percent. Macy's is scheduled to report results tomorrow.
HCP Inc. and Welltower Inc. fell more than 2.2 percent as the health-care REITs slipped following Genesis Healthcare Inc.'s earnings miss. Genesis tumbled 24 percent to a two-month low after the company also cut its 2016 profit outlook below analysts' estimates.
Before it's here, it's on the Bloomberg Terminal.
LEARN MORE