Sotheby's Sale Plunges 61% as High-End Art Market Cools Off
By
Auction house tallies $144.5 million as a third of lots unsold

Rodin sculpture tops Impressionist-modern sale, breaks record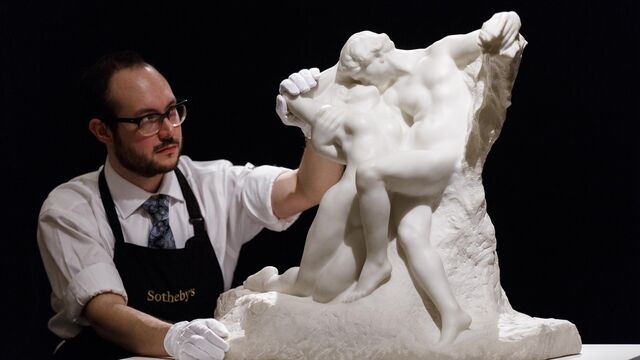 Sotheby's sold $144.5 million of Impressionist and modern art, its worst showing at an evening sale in the category in New York since the 2009 recession and the latest evidence of a cooling auction market.
The auction capped a wild day that began with Sotheby's reporting a larger-than-expected loss in the first quarter. The company's shares fell as much as 8.5 percent before rebounding to a 6 percent gain on news that an unidentified investor may boost its stake to 10 percent.
Monday's sale fell short of the minimum presale target of $164.8 million and marked a 61 percent drop from a year earlier as 21 of the 62 lots went unsold. One bright spot was the top lot -- Auguste Rodin's marble "L'Eternel Printemps," which sold for $20.4 million, including buyer's premium, handily outperforming the presale estimate. A day earlier at Christie's and Phillips, postwar and contemporary art auctions also did a fraction of the business they tallied last May.
The high-end art market "appears to be going through a correction," Taposh Bari, an analyst at Goldman Sachs Group Inc., said in a note last month.
Derain, Picasso
The biggest casualty at Sotheby's was Andre Derain's painting of a red sailboat, estimated at $15 million to $20 million. It didn't get a single bid in the Upper East Side salesroom. Several works by Pablo Picasso also flopped, along with pieces by Paul Gauguin and Pierre-Auguste Renoir. 
"That's very much a reflection of the marketplace we are in right now," said Helena Newman, Sotheby's global co-head of Impressionist and modern art. Like many dealers and advisers, she described the market as "discerning" and "selective." She added that the estimates for London sales in June will "reflect what we saw tonight."
The situation is also stark at Christie's, where Picasso's "Les Femmes d'Alger (Version O)" sold for an auction industry record $179.4 million a year ago. On May 12, its top lot is expected to be Monet's painting of water lilies, "Le Bassin aux Nympheas," estimated at $25 million to $35 million. The events are part of the spring bellwether auctions of Impressionist, modern, postwar and contemporary art in New York that began on May 8.
The dearth of big-ticket items largely stems from collectors' anxiety about the market, said dealers and auction house executives. The auction houses were competing for consignments amid falling oil prices, underperforming hedge funds and roiling financial markets.
"Less A-plus and A material comes to the market because the sellers know they won't get top dollars," said John Good, a private dealer in New York. "So they wait. Your average collector is rich and doesn't have to sell."
'Going Underground'
Collectors might prefer to sell big-ticket items privately, rather than through auctions.
"The market has retracted a bit, but good things are bringing strong prices," said Todd Levin, director of Levin Art Group in New York. "And the very high-end lots are going underground, to be sold privately."
Both Christie's and Phillips sold more than 90 percent of the offered lots on May 8. Sotheby's on Monday sold 66 percent of offered lots.
"As far as I am concerned this is a catastrophe," said Levin. "It's not just enough to get the works, you have to close the deals."
Works that were fresh to the market and accurately estimated did well. Rodin's unique sculpture of embracing lovers, carved by the artist from a single block of marble circa 1901-1903, set an auction record for the French sculptor and surpassed the high presale estimate of $18 million.
Maurice de Vlaminck's landscape "Sous-Bois," which was acquired in 1954 by art patron Sarah Campbell Blaffer and remained in the family's collection until now, fetched $16.4 million, within the estimated range. Paul Signac's 1892 sun-drenched view of houses in the port of Saint-Tropez from the collection of John Langeloth Loeb, a former U.S. ambassador to Denmark, sold for $10.7 million, also within its target range.
Before it's here, it's on the Bloomberg Terminal.
LEARN MORE