Sell JD.com, Buy Alibaba: Flipping Jim Chanos's Bets Pays Off
by
Kim Eng analyst's calls are opposite of what Chanos recommends

The pair-trade has returned 25 percent so far this year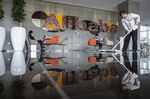 Mitchell Kim of Kim Eng Securities saw it coming for JD.com. The shares fell 7 percent in New York on Monday after China's second-largest online retailer posted slowing sales volume.
Kim is the only analyst to rate the stock a sell, a recommendation he first made in December. Instead, he suggests investors buy shares of JD.com's bigger rival: Jack Ma's Alibaba.
Those calls are at odds with bets from famed short-seller Jim Chanos, who has said he's bullish on JD.com and bearish on Alibaba. So far, Kim's coming out on top with his pair-trade recommendation returning 25 percent this year. The trade has the potential to return another 40 percent if Kim is right with his 12-month price targets.

JD.com said Monday growth in gross merchandise volume, or GMV, fell to 55 percent during the first quarter, down from 79 percent in the previous period. Revenue rose 47 percent, down from 57 percent in the fourth quarter.
"JD is at a crossroad of choosing between margins and growth," Hong Kong-based Kim said in a report after the earnings statement was released. "Investor concerns are likely to increase."
Alibaba, on the other hand, last week posted a 39 percent increase in fourth-quarter revenue. That topped analysts' estimates and also outpaced GMV growth of 24 percent. That's a sign investors should focus on monetization rates rather than on GMV, Kim said after the report.
Chanos is betting against Alibaba for accounting reasons and suspects the business is unprofitable, he told CNBC last week. He expects JD.com shares to rise and went public with those bets as late as November 6. Alibaba has fallen 5 percent since then, while JD.com has dropped 21 percent.
The hedge fund manager, who correctly predicted the downfall of Enron, has long held a bearish view on China. He wagered against the nation's real estate market in 2010 and held so-called short positions in Chinese bank in 2013.
Chanos didn't respond to an e-mail seeking comment on Friday and didn't immediately respond to another e-mail sent on Monday outside of U.S. business hours.
Kim's price target for JD.com is $21.13, or 9.9 percent lower than Monday's close. He predicts Alibaba will rise 30 percent to $103.
Before it's here, it's on the Bloomberg Terminal.
LEARN MORE