Rousseff Mounts New Effort to Halt Impeachment in Court Appeal
Arnaldo Galvao and Anna Edgerton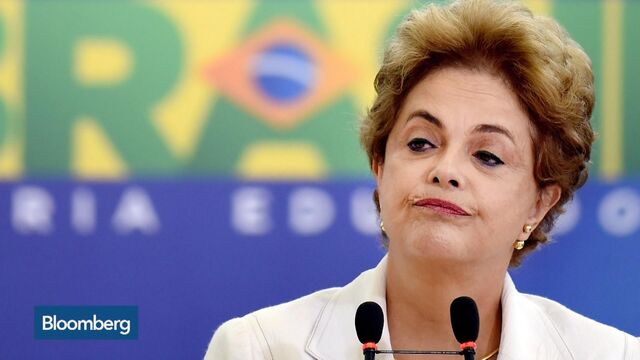 Brazil's government is making a last-minute effort to salvage President Dilma Rousseff's mandate by asking the Supreme Court to annul the impeachment process on the eve of a Senate vote that's expected to result in her ouster.
Attorney General Jose Eduardo Cardozo filed the request on Tuesday, saying that Eduardo Cunha shouldn't have been able to open impeachment proceedings last year because he was unfit to serve as lower house speaker. The attorney general cited the high court's decision last week to suspend Cunha as speaker and legislator on grounds that he may have used his position of power to intimidate legislators and defendants in a corruption probe against him. Cunha has repeatedly denied any wrongdoing.
Cardozo's motion is the latest in a series of government efforts to derail the impeachment process. He lost a Supreme Court appeal to halt proceedings last month, just days before the lower house voted by an overwhelming majority to send the motion to the Senate. In an 8-2 vote, the justices rejected the administration's argument that Congress's efforts to oust Rousseff were flawed and the administration hadn't received the right to a proper defense.
The full Senate is scheduled to decide Wednesday evening whether to put Rousseff on trial. That vote was almost delayed when the interim lower house speaker on Monday attempted to annul the impeachment process and send it back to the lower house for a new round of voting. The speaker, who replaced Cunha last week, ended up reversing his own decision.
If a simple majority of the Senate votes against the president on Wednesday -- as surveys by major Brazilian newspapers indicate will occur -- she must step down for as long as 180 days and stand trial in the Senate. The chamber then would need support from two-thirds of its 81 members to impeach Rousseff and terminate her mandate.
Before it's here, it's on the Bloomberg Terminal.
LEARN MORE