Rajan's Bank Debt Headache Isn't Over Yet
by
Concerns mount over government banks' earnings this month

Banking system needs two years to return to normal: Fitch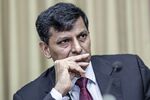 Investors who anticipated that India central bank Governor Raghuram Rajan would bring order to a bad debt-plagued banking system by now are being forced to ratchet back those expectations.
Results from ICICI Bank Ltd. and Axis Bank Ltd. two weeks ago and comments from their top managers fueled concerns that dud loans will continue to pile up, even after pressure from a Reserve Bank of India audit had made them accelerate recognition of nonperforming debt. Some analysts who predicted soured loans would peak in the March quarter are now saying it may take as much as another year before the cycle turns.
"Our expectations that the March quarter will be the inflection point for asset quality have been proved wrong," said Hatim Broachwala, an analyst at Nirmal Bang Institutional Equities in Mumbai. "Stress in the banking system is turning out to be higher than expected earlier."
Concern has mounted over what state banks, who provide most of the nation's credit and have higher levels of bad debt, will disclose with their earnings reports this month. ICICI and Axis Bank's disclosures dragged a gauge of state-run Indian banks down by 8 percent to a seven-week low on May 4, though the index has since recovered half of that loss.
Credit-default swaps protecting ICICI's debt against non-payment for five years surged on Tuesday by 20 basis points, the biggest gain since November 2013, according to data provider CMA. Similar contracts for largest rival State Bank of India jumped to the highest level since March 7.
No Guidance
Shares of ICICI, the country's second-largest lender by assets, slid as much as 11 percent after its earnings report on April 29, during which it disclosed about 42 billion rupees ($630 million) of extra debt that had soured in the March quarter as a result of the RBI's scrutiny. Rajan, who has continually warned about hidden bad debt on Indian banks' books, started the national audit on Oct. 1, in a bid to improve disclosures of soured credit and force banks to set aside more cash to cover write-offs.
While investors had anticipated a sharp rise in ICICI's sour debt, they were spooked by its executives' inability to provide clear guidance on the outlook for bad loans. The bank set aside an extra 36 billion rupees of provisions to cover future defaults in five sectors including power, mining, and cement, and revealed a "monitoring and action plan" that will focus on reducing these exposures, according to an exchange filing.
"It may take some time for solutions to be worked out given the weak operating and recovery environment," Chief Executive Officer Chanda Kochhar said.

Three days earlier, Axis Bank reported its first quarterly drop in profit since 2007 and posted a presentation on its website showing that it had put 226 billion rupees of loans on a watch list. The lender also indicated more pain to come when it said about 60 percent of that total could sour in the next two years.
"The stress levels remain elevated and the operating environment is challenging," Jairam Sridharan, the bank's chief financial officer, said on an April 26 call with analysts.
The latest data published by the RBI showed that India's banks had $131 billion of impaired assets, or about 14 percent of their total lending, as of Sept. 30. The central bank, which also regulates the banking industry, hasn't provided any figures on soured debt in the system since its audit was completed at the end of March. The RBI has no comment on the review, spokeswoman Alpana Killawala said in an e-mail.

"We considered March 31 as a line in the sand, after which banks profitability and asset quality will improve," said Nitin Kumar, a Mumbai-based analyst at Prabhudas Lilladher. "Now with ICICI and Axis coming up with a watch list of assets that could sour, I think that line is pushed to the end of September."
Fitch Ratings, which in a Nov. 3 note predicted stressed-assets ratios to peak by the end of the first quarter, now sees a possible "inflection point" in the ratio in March of next year, said Saswata Guha, the agency's Mumbai-based director for financial institutions.
Investors are now awaiting earnings from the nation's biggest government-controlled lenders including Bank of Baroda, which is due to report May 13, and State Bank of India. In the past week, smaller peers Andhra Bank and Punjab & Sind Bank both reported surges in their nonperforming loan ratios for the March quarter. India's 11 government banks account for more than 70 percent of loans in the banking system.
Asset quality and capital requirements are "key challenges" for lenders, Fitch's Guha said. "It will take about two years before the banking system comes back to normalcy."
Before it's here, it's on the Bloomberg Terminal.
LEARN MORE