technology
Qihoo Leads China Going-Private Target Rebound in U.S. Trading
By
ADRs rally as CSRC said to be considering deal quotas

Stocks had plunged on concern regulator to block transactions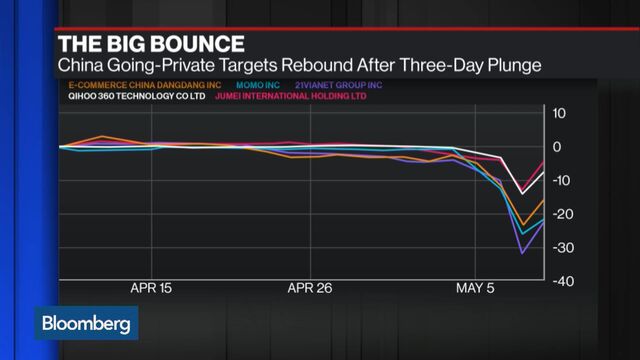 Qihoo 360 Technology Co. led a rebound in U.S.-traded Chinese companies that are seeking to move their listings to the mainland after a three-day selloff driven by concern that the Asian nation's securities regulator will move to block the deals.
The Internet company, whose $9.3 billion going-private bid is the biggest among the group, rallied 8.9 percent to $70.93 on Tuesday in New York. The stock tumbled 14 percent in the prior three trading days. Data carrier 21Vianet Group Inc. surged 15 percent, following a 29 percent plunge over three days. Momo Inc., the dating app maker whose buyout proposal got a boost from Alibaba Group Holding Ltd.'s backing, gained 6.6 percent, reducing its four-day decline to 21 percent.
The going-private targets bounced back as people with knowledge of the matter said the China Securities Regulatory Commission is considering a quota to limit the number of reverse mergers each year from companies formerly listed on an overseas exchange, easing concern that it would block such transactions outright. At least 47 U.S.-traded Chinese companies have received buyout offers totaling $42.6 billion since the start of last year, lured by the prospect of relisting at higher valuations in Shanghai or Shenzhen, data compiled by Bloomberg show.

"Investors overreacted in the past days," said Jun Zhang, head of China research at Rosenblatt Securities Inc. in San Francisco. "It would be unrealistic for the government to shut down reverse mergers entirely. High quality companies will still be able to go home."
The regulator on Friday signaled that the trend of delisting in the U.S. to sell shares in the mainland at higher valuations would come under greater scrutiny. Concern that China may crack down on relistings triggered a selloff of buyout targets in the U.S. with some falling the most since their initial public offerings.
Officials are still weighing its options and haven't decided which of the possible rules will be implemented or when they will be introduced, according to the people familiar with the matter. The CSRC didn't respond to a faxed request for comment.
— With assistance by Jonathan Browning, Vinicy Chan, and Steven Yang
Before it's here, it's on the Bloomberg Terminal.
LEARN MORE